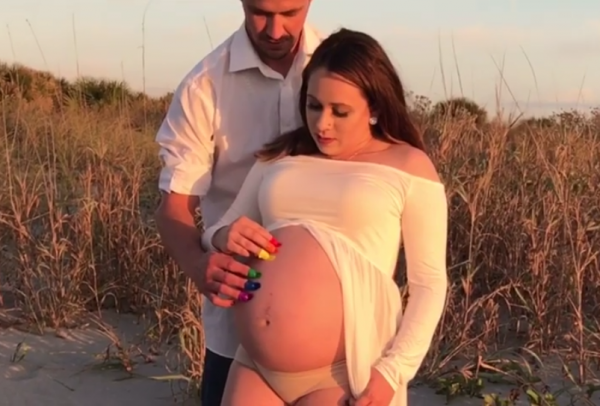 There is something so heart-wrenchingly poignant and beautiful about a rainbow baby photo shoot, and we'll admit to shedding a tear or two over the following video.
You might want to have the tissues handy as you watch Floridian couple Trevor and Chelsea Goodin's rainbow maternity shoot.
The couple were heartbroken when they lost their daughter; so, when Chelsea fell pregnant with their rainbow baby, a son, Trevor wanted to mark the moment in the most special way.
With the help of family and friends, Trevor arranged a surprise maternity shoot on the beach where the couple exchanged vows four years ago.
Trevor ensured that every detail was perfect for Chelsea, bringing her out for breakfast and then handing her clues for each surprise to follow throughout the day.
Once Chelsea had had a manicure, pedicure and her makeup done, she was brought to the beach for the stunning photoshoot, captured by Storm Aten, of Studio 810 Photography.
But there was one major detail that was kept a secret even from Trevor - the couple's loved ones arranged a special ceremony for their late daughter, 'Angel'.
The couple were invited to write letters to their little one, which they sent out to sea while the sun went down.
The whole thing was captured on video, and it is absolutely incredible. This video, which was shared to social media by friend Dana Hatch, has since gone viral.
Posting the video online, Dana captured the raw emotion of the day, as she wrote: "Crying at each of these clips as I put this together, because it was one of the most special moments I've ever been a part of."
"[The video] shows such emotion, courage and strength. We love you all, and you all deserve the world. There are no two people who deserved this more.
"Feel free to share, to let other angel mums know, their rainbow is coming."
The video has really struck a chord among parents around the world, garnering over 18,000 views across social media.