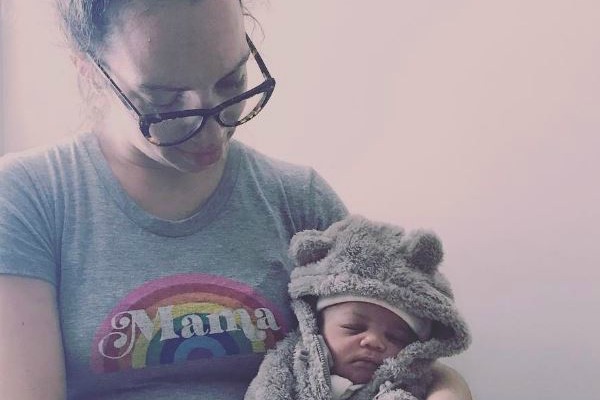 We're sick to the back teeth of celebrities who appear to 'spring' back into shape as soon as their babies are born.
In real life, dealing with a newborn baby takes pretty much all the energy a mum can muster – never mind attempting a workout!
So, it's refreshing to hear style blogger and new mum Charmaine Daudu admit that she doesn't mind her tummy rolls too much.
Charmaine, who had her little boy Zendé a month ago, shared a funny photo of her posing with her baby balanced on her knees, covering up her belly.
Charmaine joked that she was using her tot as a "tummy roll blocker" in exchange for a lifetime of care.
The new mum has a very refreshing outlook on postpartum body image, saying: "I have to say, I love that lil' pouch...should I call it my fanny pack?
"Anyway, it was Zen's home, so I'd be lying if I said I wish it would go away faster...I'm still emotionally attached."
To be honest, the only thing we noticed was Charmaine and her son's perfectly co-ordinated grey and white outfits!
Charmaine advised other new mums to go easy on themselves, saying: "Giving birth is one hell of a ride, not to mention the months prior to the actual labour...so give yourself some credit!
"Be kind to yourself, the world can be cruel enough as it is...and if you just gave birth, you're pretty much a super-hero, so extra armour comes with the territory."
We think she has a great attitude and is already setting a great example for her son.