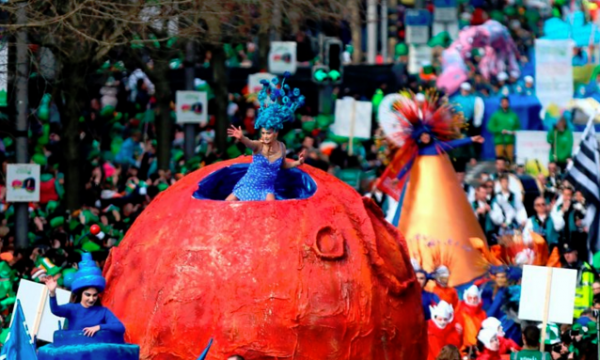 The 2016 St. Patrick's Day festivities were a runaway success today as more than a half a million people gathered together to kickstart the four days of celebration the city of Dublin will be enjoying until Monday.

With not a cloud in sight, 510,000 spectators were treated to the sights and sounds of more than 3,000 performers who were led through the street's of Dublin fair city by the parade's Grand Marshall Joanne O' Riordan.

This year's festival, sponsored by Volkswagen Ireland, Ethiopian Airlines, Tayto, and Keelings, signalled the culmination of a three-year theme inspired by the past, the present and the future, with 2016 looking the future of the country as seen through the imaginations of the youth of Ireland.

Spectacular pageantry and performance coupled with thought-provoking presentations was the name of the game today, with artistic groups including Spraoi, Artastic, Inishowen Carnival Group, City Fusion, Dowtcha, Buí Bolg, DIT and Brighter Futures captivating young and old in the city this afternoon.

Commenting on the worldwide appeal of the St. Patrick's Day Festival, CEO of St. Patrick's Festival, Susan Kirby, said: "Every year we continue to be impressed by the vision of artists seen through their parade creations and performances, and this year is no different."

"The Festival Parade is a true testament to the artistic talent we have here in Ireland, talent that is showcased on a global stage today as the Parade is viewed by millions the world over."

"Many thanks to all of those who came along to enjoy the day and we hope many more will enjoy the full programme of events the Festival has over the coming days."

What a day to be Irish!
SHARE to celebrate St. Patrick's Day!