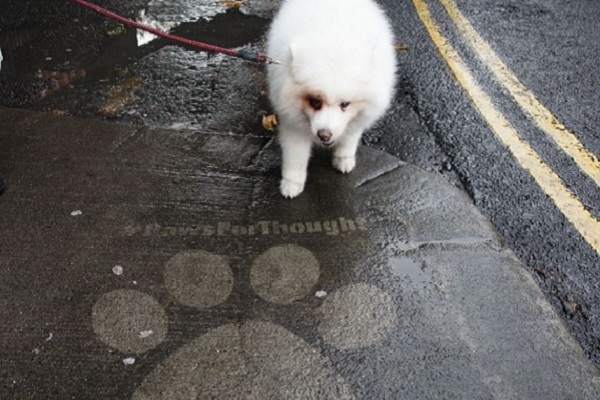 Dogs Trust Ireland have asked animal lovers to think before they adopt a dog this Christmas. Their powerful Paws for Thought campaign aims to remind people that 'A dog is for life not just for Christmas.'
Dubliners may have spotted giant paw prints on the city's paths on their way to work this morning. The giant paws aim to raise awareness about Dog Trust Ireland's Christmas campaign.
The paws were created by using clean graffiti, Dogs Trust Ireland revealed that "they represent the owners that wash their hands of the responsibility and commitment that comes with owning a dog."
They are asking the public to be diligent if they are planning on adopting a dog this Christmas.
You should 'paws for thought' because:
12,549 dogs entered Irish pounds last year.
1,522 of those dogs were needlessly destroyed.
Paws because Dogs Trust had a 58% spike in surrender requests after Christmas last year.
Paws because a dog is for LIFE, not just for Christmas®.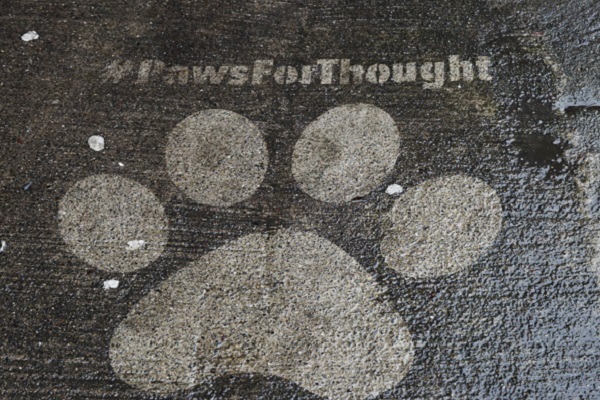 Dogs Trust Ireland are begging the public to be more conscientious because having a dog is a lifetime commitment, "Please pause. And think twice before getting a dog this Christmas."
They have shared that people need to understand the huge responsibility that comes with adopting a dog. People may get caught up in the excitement of Christmas and make rash decisions.
So many dogs are abandoned once the festive fun dies down because families realise that they were not ready to adopt a dog.
Dogs Trust Ireland shared that 756 people contacted them within the first three months of the new year asking to take their dogs in.
The figures have increased dramatically since 2015. Two years ago, 479 people asked Dogs Trust to relinquish their pets.
The 58 percent rise has caused great concern for Dogs Trust Ireland. They revealed that the main reason people gave up their dogs was that they didn't have enough time to take care of them.
The organisation cannot cope with the vast number of owners looking to surrender their dogs to Dogs Trust.
They see over 1,000 dogs come through their doors every single year and the numbers will continue to rise until people realise how serious adopting a dog is.
Dogs Trust believes people need to think deeply about the responsibility of dog ownership because there are so many who don't think about it in a serious manner.
You can help Dogs Trust Ireland share the message 'A Dog is for life, not just for Christmas', by spreading the word on social media.
They are asking you to share your Paws or Pause Pose on social media. Post photos of you and your furry friends and use #PawsForThought.