It's your second week of pregnancy. Most women are very surprised to learn that in their second week of pregnancy, they were not yet really pregnant. This seems strange, but it's true. Doctors typically use the starting date of your last menstrual cycle to calculate your due date once you know you are pregnant. It's known that conception will usually happen around two weeks after the beginning of your period - this is when most women ovulate. When the doctor calculates your due date, he starts with the first day of your last cycle and counts ahead 40 weeks. That time includes the days you were on your period and the time up until conception. So really, when you're 'two weeks pregnant', in medical terms, you may not even have conceived yet.
If you have conceived at this time, it more than likely happened just a day or so ago. Although some women claim that they know the very second they got pregnant, most women do not find out they are pregnant until after they have missed a menstrual cycle.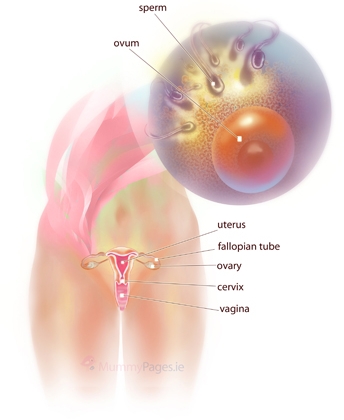 Your Baby This Week

Assuming that you have conceived, you're only a couple of days pregnant. So, what's going on with your baby at this very early stage?
Your egg has travelled down the fallopian tubes and united with a sperm. The sperm fertilised the egg and the result is called a zygote. A zygote is a single cell that is only about 1/100th inch in diameter. This cell contains your child's DNA which is made up of 23 of your chromosomes, and 23 of the father's chromosomes. The DNA will establish almost everything about your child; sex, hair colour, eye colour, body structure, skin type. The DNA also plays a role in determining a child's intelligence, personality, and even their future health.
During the first few days after conception, the zygote begins to divide and multiply. This happens very slowly at first – about once every 12 to 20 hours – but will soon be multiplying rapidly. While dividing and multiplying, the zygote begins to travel down through your fallopian tubes to find its way to the uterus where it will attach itself and begin to form into an embryo in the coming weeks.
Your Body This Week

During the first two weeks of pregnancy, your body is in a state of preparation. This state of preparation occurs every month in all women - it's your menstrual cycle. Your body is producing estrogen and progesterone so that your ovaries can release an egg. This typically occurs two weeks after the first day of your period. Your uterus is also hard at work, building up an inner lining in preparation for a fertilised egg that will eventually attach itself to the lining and reside there for the next 40 weeks.
As for symptoms, some women say they have experienced pregnancy symptoms within only a few days of conceiving. There are also a few very lucky women who will go through the entire pregnancy without experiencing the more annoying symptoms like morning sickness. The typical woman, however, will not have any pregnancy symptoms at this early stage. Symptoms usually start to show up around the fourth week of pregnancy after the fertilised egg has attached itself to the lining of the uterus. It's at this time that you will probably feel more tired, experience some slight nausea, and have trouble sleeping. Other symptoms like having tender breasts and the need to urinate more frequently will follow. For now, the only thing you may notice is some slight cramping and maybe some spotting when the fertilised egg is attaching itself to the uterus.
If you know you are pregnant, now is a good time to take a look at your diet and lifestyle. Eat healthily and start adding calories to your daily intake. During these next 40 weeks, you should gain between 7 and 18 kilos (or roughly 1 and 3 stone). For most women this means a 2,200 calorie per day diet for the first 20 weeks of your pregnancy and 2,500 calories per day thereafter. A healthy lifestyle with minimal stress is essential to having a happy pregnancy and a healthy baby.