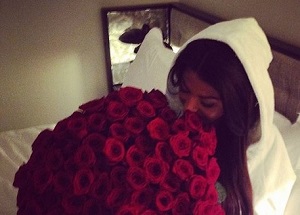 Her best friend shared her wonderful baby news recently, and now former TOWIE star Cara Kilbey has an amazing announcement of her own – she and her boyfriend are expecting their first child.
The star took to Instagram and Twitter to share the amazing news with her followers, posting a photo of herself forming a love heart with her hands over her growing baby bump.
In the photo's caption, Cara wrote: "So happy and excited to announce we are expecting our first baby together July 2015."
One of the very first people to send her love and well wishes to Cara was her best friend, mum-to-be Billi Mucklow.
The former TOWIE star, who is expecting her first child with her footballer fiancé Andy Carroll, shared Cara's stunning photo, with the caption: "I'm so excited. Me and my best friend are having babies. So happy that we get to go through the tears and joys together. Our babies will be mini besties. Love you @carakilbey."
What an exciting time for these two expectant mums. We wish them both all the best with their pregnancies.