Apple Tiramisù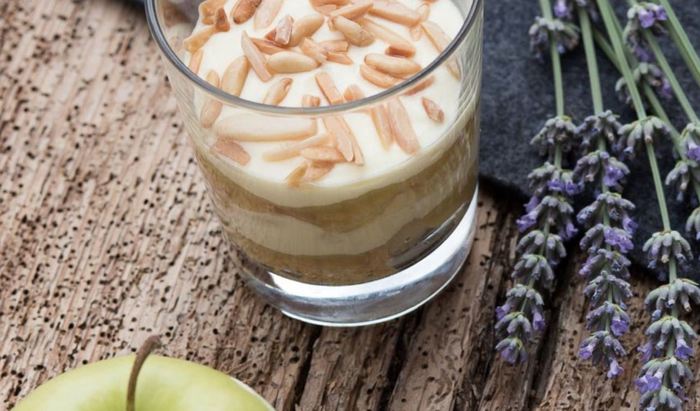 2 eggs
1 egg yolk
80 g sugar
250 g mascarpone
250 g quark
200 g cream
1 tbsp advocaat
1 tbsp amaretto
lemon zest
1 vanilla sugar
approx. 1 kg Golden Delicious apples
apple juice
biscuits
toasted chopped almonds and pine nuts
Apple purée: peel and chop the apples. Cook them down with a little water, stir and allow to cool.
Mascarpone cream: whisk the egg yolk and the eggs together with the sugar and vanilla sugar until creamy (heat over a bain marie to 85°C and then stir until cold).
Add the mascarpone, quark, advocaat, amaretto and the lemon zest to the egg mixture. Then combine the whipped cream.
Layer the tiramisu in jars: start with the biscuits soaked in apple juice, then add a layer of apple purée, then a layer of mascarpone cream. Then biscuits again, apple purée and mascarpone cream.
Decorate with the toasted almonds and pine nuts and chill in the fridge for approx. 30 minutes. And serve with a smile.
Cooking Time
20 minutes
Main ingredients
Fruit
Level of Difficulty
Easy
You only need to heat the Golden Delicious very briefly, you don't want them too soft. That way you retain the flavour of the apples in the purée. Buon appetito!
Other recipes you may like
Trending and Sponsored