Tarte Tatin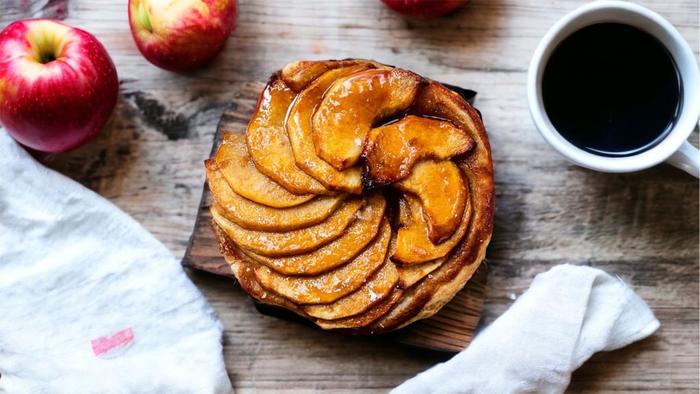 6-8 medium-sized apples
200g granulated sugar
100g unsalted butter
1 sheet of puff pastry (store-bought or homemade)
Optional: vanilla ice cream or whipped cream, for serving
Peel the apples, cut them in half, and remove the cores. You can leave the apples whole or slice them into thick wedges.
In a 9 or 10-inch oven-safe skillet or cake pan, melt the butter over medium heat. Sprinkle the sugar evenly over the melted butter.
Stir the sugar and butter together until the mixture turns a light golden caramel color. Be careful not to let it burn.
Remove the pan from heat and carefully arrange the apple halves or slices, cut side down, in the caramel. Pack them tightly together to fill the pan.
Return the pan to the stove over low heat and cook the apples in the caramel for about 10 minutes. This will help soften the apples slightly and infuse them with caramel flavor.
While the apples are cooking, roll out the puff pastry sheet to fit the size of the pan. Prick the pastry with a fork.
Once the apples have cooked for 10 minutes, remove the pan from the heat and carefully place the puff pastry over the apples, tucking in the edges around the apples.
Transfer the pan to the preheated oven and bake for about 25-30 minutes, or until the puff pastry is golden brown and crisp.
Remove the pan from the oven and let it cool for a few minutes. Using oven mitts or a kitchen towel, carefully place a serving plate or platter over the pan. Hold the plate tightly and carefully invert the pan, allowing the tart to release onto the plate. Be cautious as the caramel may still be hot.
Preparation Time
25 minutes
Cooking Time
25 minutes
Main ingredients
Fruit
Recipe Type
Cakes & Baking
Level of Difficulty
Medium
Serve the Tart Tatin warm, either as is or with ice cream or whipped cream
Other recipes you may like
Trending and Sponsored