Pizza with apples & gorgonzola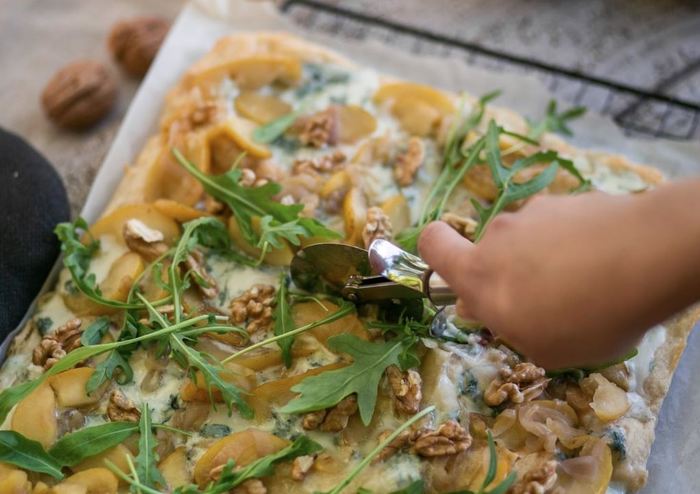 To make the dough:
500 g of flour

250 ml water

21 g yeast

1 tablespoon of olive oil

a pinch of salt

optional: leave to rise for 24 hours
For the topping:
300-500 g of cheese (gorgonzola or goat's brie)

1-2 shallots or red onions

100 g of walnuts

2-3 tablespoons of honey

3-4 Gold Rush apples
Mix 500 g of flour with 1 tablespoon of oil and a pinch of salt.
Dissolve the yeast in warm water, add it to the flour and knead until the mixture is smooth.
Leave the dough to rise away from drafts for about 24 hours.
Preheat the oven to 180-200 C°, with heat on bottom and top in fan mode.
Spread the dough evenly on a baking sheet.
For the topping, cut the Gold Rush apples into thin slices and the shallots into rings.
Brown the apples and shallots in a pan with a drizzle of oil, then caramelize with honey.
Bake the dough for 12-15 minutes.
Spread the gorgonzola or goat cheese on the pizza, then the mixture of apples and shallots; garnish with walnuts at the end.
Turn off the oven and put the pizza back in for another 5-10 minutes, until the cheese has melted.
Serve the pizza with apples & gorgonzola with a smile.
Preparation Time
15 minutes
Cooking Time
25 minutes
Main ingredients
Flour, Fruit, Cheese
Recipe Type
Dinner
Level of Difficulty
Easy
Add some rocket and a few drops of honey to taste before serving. Enjoy!
Other recipes you may like
Trending and Sponsored