Apple Traybake Cake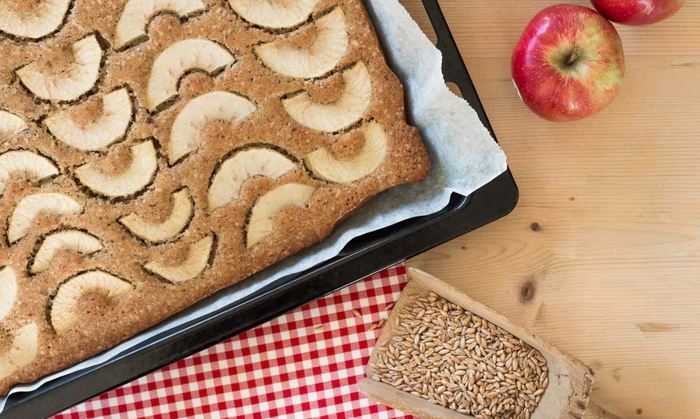 250 g butter

250 g sugar

250 g freshly milled spelt flour

80 g almonds, coarsely ground

5 eggs

1 tbsp baking powder

1 pinch bourbon vanilla

zest of half a lemon

4 to 5 Topaz apples
Make sure all the ingredients are at room temperature before you start.
Beat the butter with an electric mixer until creamy, add the sugar and continue beating.
Add the eggs gradually, one by one, and continue stirring until the mixture is an even consistency.
Next stir in the ground almonds, spelt flour, lemon zest, baking powder and the vanilla.
Spread the mixture evenly onto a baking tray lined with greaseproof paper.
Peel and core the apples and cut into slices.
Cut the slices in half and place on the cake mix.
Bake the traybake cake in the oven at 160°C (no fan) for 30 to 35 minutes.
Allow to cool and then, if you like, sprinkle with icing sugar before serving with a smile
Preparation Time
30 minutes
Cooking Time
35 minutes
Level of Difficulty
Easy
Other apple varieties also make ideal toppings, particularly those with a slightly acidic note. You can also try other types of fruit, e.g. plums or apricots. If you can't eat fruit, then the cake mix goes extremely well with dark chocolate. Serve with a delicious glass of Lagrein – wonderful!