Beef & guinness cobbler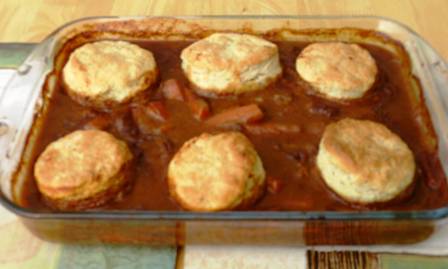 This meal is a real crowd pleaser and a delicious dinner to serve to guests.
670g stewing beef – diced into small chunks
Pinch of cayenne pepper
50g plain flour
Salt and pepper
1 tablespoon vegetable oil
4 carrots – peeled and sliced
2 large onions - chopped
250ml water
450ml Guinness
2 tablespoons tomato puree
60ml or 4 tablespoons of water
2 good tsps of Bovril
A splash of Worcestershire sauce

Topping
230g self raising flour
50g butter
1 tsp mixed herbs
150ml milk
Put the flour in a bowl and season with salt, pepper and cayenne pepper. Place the meat in the same bowl and toss well coating entirely.
Heat the oil in a pan over a high heat and add the meat in two batches. Brown the meat well on all sides. Remove the meat from the pan and set aside.
Pour half of the Guinness into the pan and bring to the boil, stirring well to absorb the meat juices – this is called deglazing. Simmer for a minute and then return the meat to the pan. Next add the carrots, onions, tomato puree, water, Bovril, a splash of Worcestershire sauce and remaining Guiness. Bring to a slow simmer and cover. Simmer for about 2 to 3 hours until meat is really tender – it should fall apart.
To make the cobbler topping:
Preheat oven to 180°C/375°/Gas 5.
Place the flour into a large mixing bowl, rub the butter in, using your fingertips until the mixture resembles fine breadcrumbs.
Next add in the mixed herbs and stir well.
Add the milk and mix to a soft dough. Transfer to a lightly floured surface and lightly knead to shape into a round. Using a rolling pin, roll out to about 3cm in thickness. Use a 5cm cookie cutter and cut into 6 rounds.
Transfer the cooked stew to an oven proof dish.
Place the round cobblers on top of meat in the casserole. Bake in the oven for about 15 -20 minutes until nicely golden brown.
Serve immediately with some green vegetables.
Main ingredients
Dairy, Flour, Alcohol, Beef, Vegetables
Recipe Type
Dinner, Stew
Cuisine
Irish
Level of Difficulty
Medium
Our recipe tester says the cobbler needs to be stirred frequently while cooking to prevent it from sticking and burning. If you can't stay in the kitchen to stir it regularly for the 3 hours, she suggests you place the cobbler in the oven on a low heat rather than cooking on the stove.
Other recipes you may like
Trending and Sponsored