Beef lasagne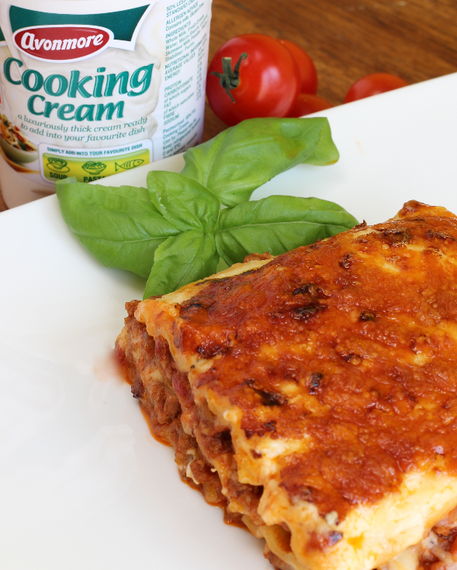 For the ragu:
1 medium onion – chopped
2-4 garlic cloves – chopped
2 tblsp olive oil
500g minced beef
100g cooked ham, roughly chopped
1 tin chopped tomatoes
200ml water or stock
2 tblsp tomato puree
2 tblsp chopped, fresh oregano - optional
Salt and pepper to taste
Lasagne sheets 9 – 15, depending on your dish size
For the white sauce:
50g Avonmore butter
50g plain flour
500ml Avonmore Milk – at room temperature
For the topping:
1 x 250ml carton Avonmore Cooking Cream
200g Avonmore Cheddar Cheese, grated
You will need one oven-proof dish, approx 20cm x 30cm
In a wide pan, heat the olive oil and cook the onion and garlic gently for about 5 minutes. Add the mince and brown it well, breaking it up as you do, add the ham, tomatoes, purée, water or stock and bring to a bubble. Turn the heat to a simmer and cook, uncovered for 30-40 minutes. Stir occasionally until the sauce is a nice thick consistency. Season with salt and pepper and add the oregano if using. Turn off the heat and make the white sauce.
Melt the butter gently in a medium sized pot, add the flour and stir to cook the flour for 3-4 minutes. Slowly add the milk, stirring as you go until all the milk has been added to the pan. Don't worry if it seems like it won't work, keep stirring and turn the heat to low. The sauce will become thick and smooth, season with salt and pepper.
Assemble the dish by spreading a layer of meat sauce on the bottom of the dish, drizzle over some white sauce and lay the lasagne sheets on top. Be careful not to overlap any sheets. Repeat the layers until the sauces are used up, this quantity will make three layers of pasta and sauce.
Pour the contents of the Avonmore Cooking Cream over the top and down the sides of the dish. Sprinkle generously with Avonmore cheddar cheese and bake in a preheated oven at 180°C for 40-50 mins until golden brown and bubbling.
Serve with salad and garlic bread
Serves
4-6
Preparation Time
15 minutes
Cooking Time
120 minutes
Main ingredients
Beef
Recipe Type
Dinner, Family Dinners
Cuisine
Italian
Level of Difficulty
Medium