Caramel Teddy Bear Treats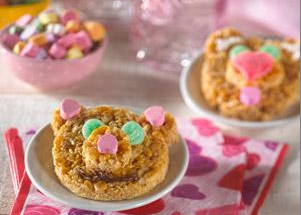 300g toffee sweets
30ml milk
180g Kellogg's® Rice Krispies®
Assorted sweets, dried fruit and nuts to decorate
Icing
140g butter, softened
280g icing sugar
1-2 tbsp milk
A few drops food colouring
Melt the toffee sweets in a saucepan with the milk over a low heat for 5-10 minutes or until smooth to create your caramel sauce. Remove from the heat.
Add the Kellogg's® Rice Krispies® to the pan and stir until well coated.
Line a 15 x 10 x 1 inch baking tray with baking paper. Pour the Kellogg's® Rice Krispies® into the tin and evenly press the mixture down using the back of a spoon.
Leave to cool slightly. Using circle biscuit cutters cut out eight 2 ¼ inch circles, eight 1 ¾ inch circles, eight 1 inch circles and twenty-four ¾ inch circle.
For each teddy bear place one 6cm circle adjacent to one 4.5cm circle. Gently press together. Halve one of the 2cm circles and use for ears. Place one 2.5cm circle on the 4.5cm inch circle for a nose.
Attach each section and decorate with icing and /or sweets/ dried fruits/ nuts to create the eyes, mouth and nose.
To make icing:
Beat the butter in a large bowl until soft.
Add half the icing sugar and beat until smooth.
T
hen add the remaining icing sugar with one tablespoon of the milk.
Beat until creamy then add the food colouring and mix well.
Add extra icing sugar to thicken or a little extra milk to make it runnier if necessary.
If you don't have time to make the icing yourself, you can buy ready –to-use icing in a tube from most big supermarkets
Serves
8
Preparation Time
15 minutes
Cooking Time
20 minutes
Main ingredients
Dairy, Sugar, Cereal
Recipe Type
Cakes & Baking, Snacks, Cookies & Biscuits
Level of Difficulty
Easy
Microwave tip: In microwave-safe bowl heat the toffee sweets and milk on high for 3 minutes, stirring every minute. Stir until smooth. Follow steps 2 to 6 above. Microwave cooking times may vary.
Other recipes you may like
Trending and Sponsored