Crostini with Spiced Lamb and Avocado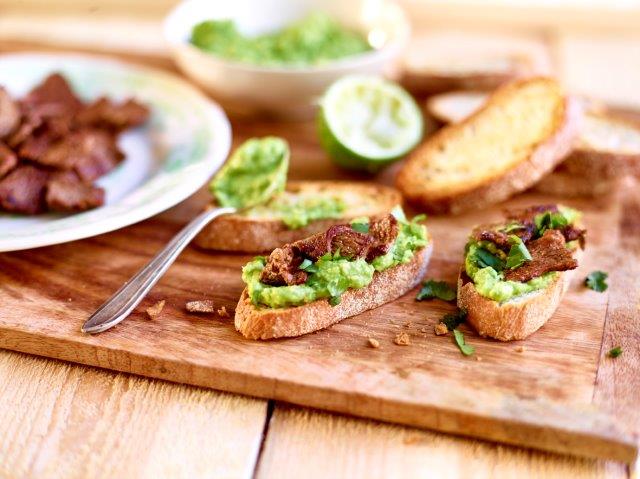 "The perfect snack: Quick, full of flavour, and easy to eat on the go. For an extra twist, add some cayenne pepper to turn up the heat" – Mark Moriarty, 2016 ambassador for the Lamb – Tasty, Easy, Fun campaign'.
150 g lamb stir-fry strips or leg steaks cut into strips
4 tbsp olive oil
1 level tsp ground cumin
1 level tsp ground coriander
½ tsp chilli powder
1 ciabatta loaf
1 ripe avocado
1 lime
Salt and pepper
Fresh chopped coriander
In a medium size bowl mix together 2 tbsp olive oil, the cumin, ground coriander and chilli powder. Add in the lamb and stir to coat the lamb with the spice mixture. Then cover and leave to rest at room temperature.
Cut the ciabatta into 12 medium diagonal slices. Lightly coat with olive oil on both sides. Toast under the grill or on a grill pan.
Mash the flesh of the avocado with a fork and add the lime juice (quantity depending on your taste) until it reaches a creamy consistency. Season to taste.
Heat a frying pan and add the meat. Brown the meat on a high heat and season to taste.
Spread the avocado cream on the toasted ciabatta, then add the meat on top and finish with a scattering of the chopped coriander.
Serves
12 pieces
Preparation Time
20 minutes
You can grill the bread in advance as it does not need to be hot. However, you should wait to garnish it until the last minute so it remains crisp.
Preparation and cooking time: 20 minutes.