Glazed ham with cloves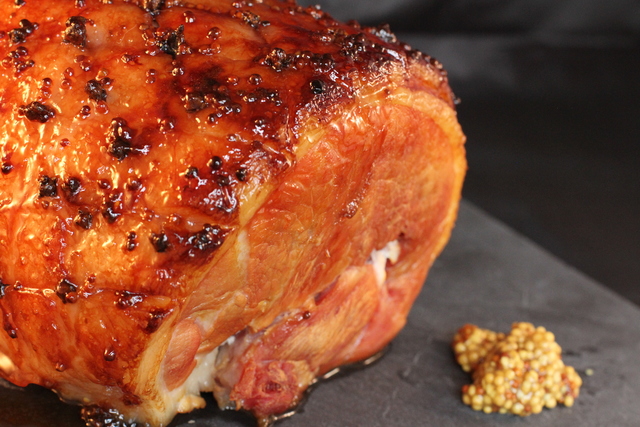 Ham fillet of around 2kg
1 onion peeled
2 bay leaves
Handful of Goodall's Whole Cloves
Two tablespoons of Wholegrain mustard
100g of soft brown sugar
Firstly you need to soak your ham for at least 5 or 6 hours or overnight preferably. You can empty out the water a few times and replenish it.
Bring the ham to the boil and pour off all the water before filling up the saucepan with more water again, then add the bay leaves and the onion with a few cloves stuck into it. Once it's boiling let it simmer for close to two hours.
Once cooked, you can then take the top layer of fat off with a knife but leave a thin layer on the top of the ham. Then it's time to create the diamond effect, by scoring the remaining fat. Use your knife to score several lines going in one direction and then go back across the ham scoring more lines in the opposite direction. Place a clove at each corner of the diamonds created.
Mix your mustard and sugar together to form a thick paste and smear it all over the diamond design.
Put it in a hot oven at around 220°C for about 25/30 mins. You can baste it with some of the topping which may run off the meat during its cooking time. Ideally you want the joint of meat to look lovely and brown and caramelised.
Remove and leave to cool.
Serves
6
Preparation Time
15 minutes
Cooking Time
180 minutes
Recipe Type
Dinner, Family Dinners
Level of Difficulty
Easy
Other recipes you may like
Trending and Sponsored