Lamb and penne gratin with courgettes and two cheeses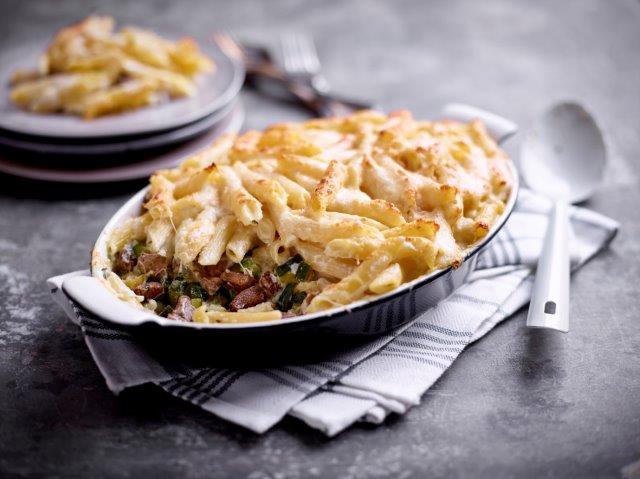 This simple dish utilises the leftovers of a Sunday roast and is a balanced, tasty and quick recipe, ideal for busy midweek cookery" – Mark Moriarty, 2016 ambassador for the Lamb – Tasty, Easy, Fun campaign'.
350 g leftover cooked leg of lamb
350 g penne
100 ml milk
300 ml béchamel sauce*
2 courgettes
3 tbsp olive oil
Salt and pepper
1 level tbsp chopped dried oregano
150 g grated mozarella
50 g freshly grated mature hard cheese
Pre-heat the oven to Gas Mark 6, 200°C, 400°F.
Cook the penne in salted boiling water, making sure to keep it al dente. Drain and return it to the saucepan, off the hob. Add the milk and ⅓ of the béchamel sauce and mix.
Meanwhile, chop the courgettes into small pieces. Cook on a high heat for 5 minutes in a large frying pan with 2 tbsp oil, stirring regularly. Season and put in a colander then leave to drain. Chop the meat into small cubes then brown in the frying pan with 1 tbsp oil. Sprinkle with the oregano and take off the heat when it is thoroughly browned. Add the courgettes and season to taste.
Spread half the penne in an oven dish. Cover with the courgette and meat mixture, then the mozzarella. Spread out the rest of the penne on top, cover with the rest of the béchamel sauce and sprinkle the hard cheese over the top.
Cook in the oven for 10 minutes until golden. Serve hot accompanied by a salad.
Serves
4
Preparation Time
25 minutes
Cooking Time
10 minutes
You can also use minced lamb for this recipe. Brown it in the frying pan in the same way as the left-over lamb.
* For the béchamel: Melt 20 g butter in a frying pan, sprinkle over 20 g flour, mix for 30 seconds then gradually add 300 ml milk, whisking as you go. Season with salt, pepper and add a pinch of nutmeg. Bring slowly to the boil and leave to thicken a little on a gentle heat for 2 minutes.