Lentil Ragu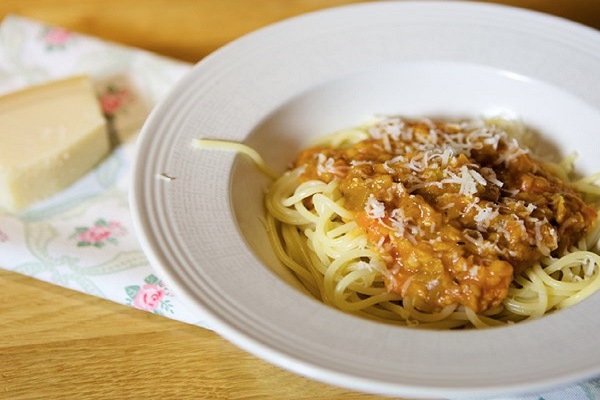 Does Bolognese make a regular appearance in your house? Then this lentil ragu is a really nice vegetarian alternative! It is full of healthy goodness, and the kids loved and enjoyed it.
This ragu recipe also works really well for smaller babies, and the texture would suit a weaning baby from 6 months+.
Use small-grain pasta, or use penne and serve it as a finger-food for a tasty, baby-led weaning snack.
2 tbsp olive oil
2 onions, chopped
2 cloves of garlic, crushed
2 potatoes, peeled and chopped
3 large carrots, peeled and chopped
3 celery sticks, chopped
500g red lentils, soaked and washed
2 400g cans chopped tomatoes
2 tbsp tomato purée
2 bay leaves
1 tsp dried oregano
1 litre of vegetable stock
Note: it is a good idea to soak your lentils for about half an hour before use. Lentils do not need pre-soaking but can be pre-soaked to improve digestibility, making it easier for smaller children.
Heat the oil and fry the onions, carrots, celery and garlic. Cook until softened but not browned.
Drain your lentils and add together with the potatoes to the pan.
Next, add the tomatoes, tomato purée, herbs and vegetable stock. Bring to the boil, cover, and simmer for 40-45 minutes or until the lentils and vegetables are very tender.
Remove the bay leaf and serve over warm pasta or store for future use.
Main ingredients
Vegetables, Lentils, Oil, Garlic, Herbs
Recipe Type
Dinner
Storage:
Allow to cool for up to 2 hours, and then place in your fridge for about half an hour.
Your lentil ragú is now ready to go into the freezer. Place your containers into a zip-lock bag, and label the bag. Use within 3-4 months.