Mushrooms stuffed with lamb, ricotta and pesto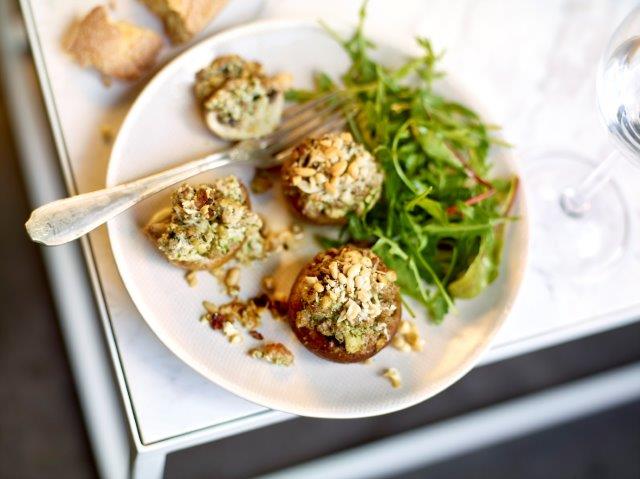 "This recipe uses a more economical minced lamb to great effect. With the addition of ricotta and pesto, this offers a perfect summer starter or light lunch" – Mark Moriarty, 2016 ambassador for the Lamb – Tasty, Easy, Fun campaign'.
250 g minced lamb
3 tbsp olive oil
500 g large mushrooms
100 g ricotta cheese
2 tbsp pesto
Salt and pepper
3 tbsp freshly grated mature cheddar
3 tbsp pine nuts
Pre-heat the oven to Gas Mark 4, 180°C, 350°F.
Heat 1 tbsp oil in a frying pan. Add the minced lamb. Break up the mixture with a wooden spoon to stop large clumps forming.
Brush the mushrooms. Remove the stalks and chop them. Add the stalks into the frying pan.
Take the pan off the heat when everything is browned and transfer to a dish. Add the ricotta and pesto. Mix and season to taste.
Lightly oil the mushrooms and stuff them with the mince mixture. Place them in an oven dish and cook for 10 minutes.
Sprinkle over the grated cheese then the chopped pine nuts and continue to cook in the oven for around 10 minutes.
Serve hot as a starter or snack, accompanied by a salad.
Serves
4
Preparation Time
15 minutes
Cooking Time
20 minutes
You can also use small mushrooms for this recipe and serve them as canapes.