Oven Baked Pork Chops with Potatoes, Fennel and Red Peppers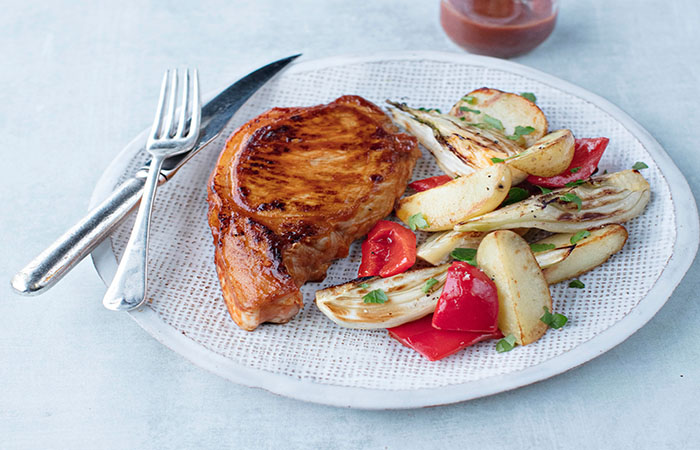 This homemade barbecue sauce recipe is really easy and will keep in the fridge for 2-3 weeks. A great standby for the barbecue season.
4 pork chops, thickly cut and well-trimmed
Barbecue Sauce
8 tablesp. tomato ketchup
1 teasp. honey
1 tablesp. Worcestershire sauce
1 tablesp. white wine vinegar
1 tablesp. sriracha hot sauce
1 garlic clove, peeled and chopped
2 teasp. Dijon mustard
500g baby potatoes, cut in half, or in quarters if large
2 large fennel bulbs, quartered or 2 leeks, cleaned and cut into 5cm lengths
2 red peppers, chopped 2cm pieces
1 tablesp. olive oil
Salt and freshly ground black pepper
Handful of parsley leaves, chopped
Preheat the oven Gas Mark 6, 200°C (400°F).
Mix the barbecue sauce ingredients together. Remove half to small serving dish and spoon the other half over the pork chops.
Place the potatoes, fennel and peppers in a roasting tin big enough to hold the vegetables and chops in a single layer. Stir through the olive oil and season with salt and pepper. Place in the oven for 10 minutes to give the vegetables a head start. Then take the roasting tin out of the oven and add in the pork chops. Move the vegetables to the edge of the roasting tin so that the chops are sitting on the base of the tin, not on top of the vegetables. Bake for 20 minutes.
Remove from the oven and let the chops sit for a couple of minutes before sprinkling over the parsley and serving with the remaining barbecue sauce.
Serves
4
Preparation Time
15 minutes
Cooking Time
30 minutes
Level of Difficulty
Easy