Oven roasted chips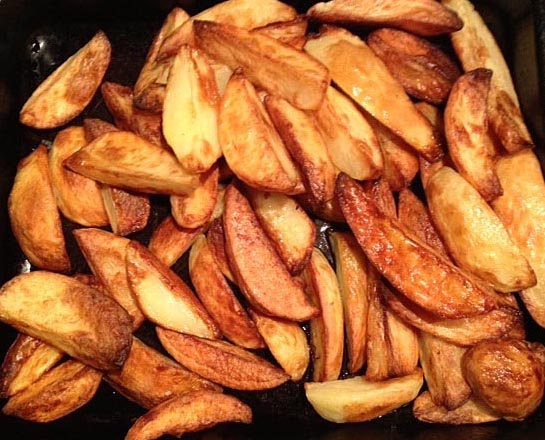 These chips are cooked in only 2 tbsp of olive oil in the oven so are low in fat and taste fantastic.
1kg potatoes, Roosters are ideal
2 tbsp olive oil or sunflower oil
Pre-heat your oven to 220°C/450°F/gas 8
Peel the potatoes or leave skins on, cut into chips and rinse under cold running water
Parboil your chips for about 8 minutes in salted boiling water and drain in a colander.
Allow to steam for 5 minutes, shaking occasionally.
Pour the oil in a large roasting tin and place in the oven.
When the potatoes have dried off, transfer them to the preheated tray. Using a fish slice toss them to ensure they are evenly coated in the hot oil.
Cook for 20 to 25 minutes until crisp and golden.
Serves
4
Preparation Time
15 minutes
Cooking Time
30 minutes
Recipe Type
Dinner, Budget, Family Dinners, Healthy, Kids Food, Side Dish, Vegetarian
Level of Difficulty
Medium
Allow the chips to steam until dry, this prevents them from sticking to the roastingtray. This applies to roasting potatoes also.