Paul Flynn's lamb loin chops with a sweet potato and parmesan mash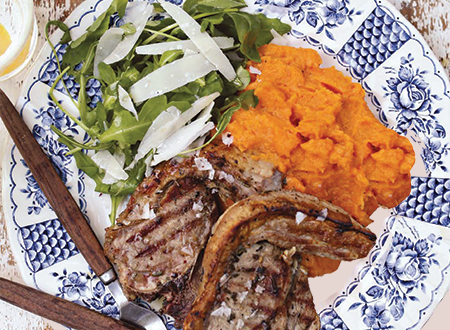 A delicious, healthy dish that is perfect for winter.
1 packet of Inisvale Irish Lamb Loin Chops
1 sweet potato, peeled and diced into chunks
1 tbsp of Dairy Manor butter
1 piece of Lovilio Parmigiano Reggiano grated
3 tbsp of Primadonna Extra Virgin Olive Oil
2 garlic cloves, peeled and roughly sliced
1 bag of Meadow Fresh Rocket Lettuce
A little chopped rosemary, thyme or sage for the marinade
A little lemon juice
Kania salt & pepper
Firstly, marinade the chops in half the olive oil, herbs, garlic, salt and pepper... the longer the better but 30 minutes will do.
Boil your sweet potato until soft, drain, mash and keep warm.
Next, in a small pan add your butter and simmer over moderate heat for 2-3 minutes. After a minute or so, the butter will start to split and foam, then start to turn a nutty brown. Keep an eye on it all the time as you don't want it to burn.
Add the nut butter into the mash along with most of the grated parmesan and some salt and pepper.
Scrape off any traces of garlic from the chops as it might burn. Heat up a frying pan, put the chops into the hot pan, and cook for 2 minutes on each side and a further minute on the edges to crisp up the fat. This will give you nice pink chops.
Allow the chops to rest a little between two warm plates. While they are resting, reheat your mash and dress with some rocket leaves.
Put the rest of the rocket in a bowl with the remaining olive oil and a squeeze of lemon juice, season then serve with the mash, chops and sprinkle the rest of parmesan on top.
Serves
2
Preparation Time
30 minutes
Cooking Time
10 minutes
Main ingredients
Vegetables, Lamb
Recipe Type
Dinner
Level of Difficulty
Easy
Other recipes you may like
Trending and Sponsored