Pork with Bacon, Paprika and Butter Beans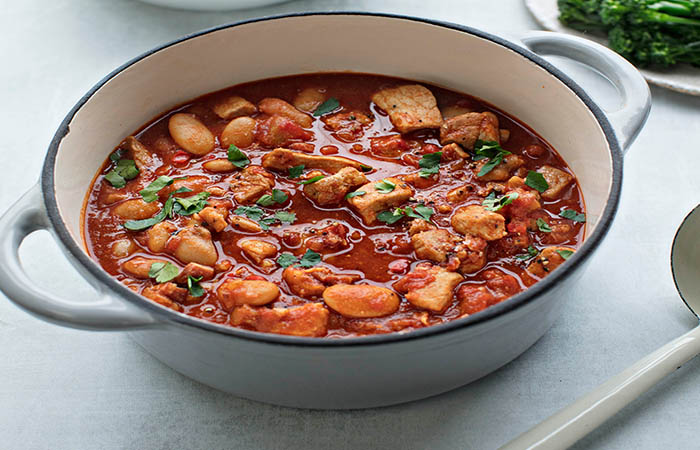 This traditional Spanish combination of pork and paprika gives a dish rich in flavour and colour.
600g pork shoulder, well trimmed and diced into 2cm pieces
100g bacon, diced
2 tablesp. rapeseed or olive oil
1 onion, peeled and diced
1 red chilli, chopped
2 garlic cloves, peeled and chopped
2 tablesp. smoked paprika
1 teasp. ground cumin
200ml water
75ml white wine
400g tin chopped tomatoes
400g tin butter beans, rinsed and drained
2-3 tablesp. chopped fresh parsley
1 teasp. runny honey
Set the oven to Gas Mark 3, 160°C (325°F).
Heat the oil in a large frying pan over a high heat. Brown the pork pieces in batches. Remove the meat to an ovenproof casserole dish. Add the bacon to the frying pan and fry for 3-4 minutes, or until crisp and golden-brown. Add it to the casserole dish with the pork.
Add the onion and chilli to the same frying pan and cook for 2-3 minutes, or until softened. Add the garlic, smoked paprika and cumin. Stir and cook for another minute. Be careful not to let the garlic burn. Then add the wine and bring the mixture to a simmer. Add the chopped tomatoes and the water and bring back to simmer. Season with a little salt and black pepper. Transfer to the casserole dish, cover with a lid or tinfoil. Place in the oven and cook for about 1½ hours or until the meat is tender. Keep an eye on it and add a little more water if the sauce becomes too dry. For the last ten minutes stir through the butter beans.
Just before serving stir in the honey, season to taste and sprinkle over the parsley.
Serve with mashed potatoes and tender stem broccoli or sautéed pak choi.
Serves
6
Preparation Time
30 minutes
Cooking Time
90 minutes
Level of Difficulty
Easy