Porky pies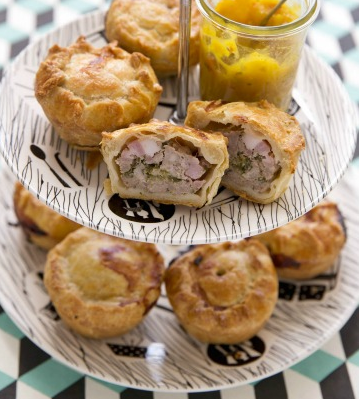 These little pies make a super supper with some pickles and mustard.
For the filling
A bunch of spring onions, finely chopped (use the green bits too)
A handful of finely chopped fresh parsley
Butter, for frying
5 pork sausages, slipt and meat removed
100g unsmoked bacon rashers (include a little of the fat), roughly chopped
Half tsp ground nutmeg
Half tsp ground allspice
Half tsp pimenton (smoked hot paprika)
Salt and freshly ground black pepper
For the hot-water crust pastry
500g plain flour, plus extra for dusting
1 tsp salt
50ml water
50ml milk
150g non-hydrogenated lard
1 egg, whisked with 1 tbsp cold water, for glazing
12-hole muffin tray
8.5cm-round pastry or biscuit cutter
Preheat the oven to 180°C/ 160°C fan/ gas mark 4. Place a baking tray inside to heat up.
First make the pastry. Fry the spring onions and the parsley in a large knob of butter over a medium heat for 3 minutes.
Transfer to a mixing bowl and leave to cool.
Add the sausage meat and chopped bacon rashers, the spices, a good grind of pepper and a pinch of salt.
Mix it all together with your hands and set aside to cool.
Now make the pastry. Tip the flour and salt into the mixing bowl.
In a pan over a low heat, gently heat the water, milk and lard until the lard has melted.
Make a well in the flour and pour in all the lard mixture.
With one hand, work quickly to combine the fats and the flour until a rough dough forms.
Turn out on to a lightly floured surface and squeeze together to form a smooth dough (you will have to do a little kneading).
Divide the ough into 4 pieces and roll out one piece to roughly the thickness of a pound coin (about 2mm).
Use a larger cutter to cut out as many pastry bases as you can.
This pastry has a warm play dough feel so you can easily mould it into each muffin shell.
Push the pastry ight to the bottom to ensure there are no air bubbles and leave a small overhang.
Repeat, rolling out more pasty as necessary until all of your pie bases are made.
Now assemble your pies. Tightly pack the meat filling into each pastry shell.
Roll out the remaining dough and use a small cutter to cut out the pie tops (you can make these a lot thinner too).
Brush the edges with the egg wash and pop the tops on, pinching up the sides to seal the pies.
Cut out a little hole in the top of each pie to let the steam escape, and finally egg-wash them.
Place your muffin tray on the hot tray in the oven and bake for 30 minutes.
Remove from the oven and let the pies cool a little before removing each one (using a palette knife to loosen the edges) and tansferring them directly on to the hot baking tray.
Return to the oven for a further 20 minutes to crisp up the bottoms and edges.
Leave to cool completely on a wire rack before eating.
Serves
makes 12 little pies
Preparation Time
15 minutes
Cooking Time
50 minutes
Main ingredients
Dairy, Flour, Pork
Recipe Type
Dinner, Family Dinners
Level of Difficulty
Easy
Marika Gauci, The Little Book of Pies, Square Peg, £10. Photographs by Sarah Cuttle.
Other recipes you may like
Trending and Sponsored