Prawn & creamed leek tartlet with Parmesan pastry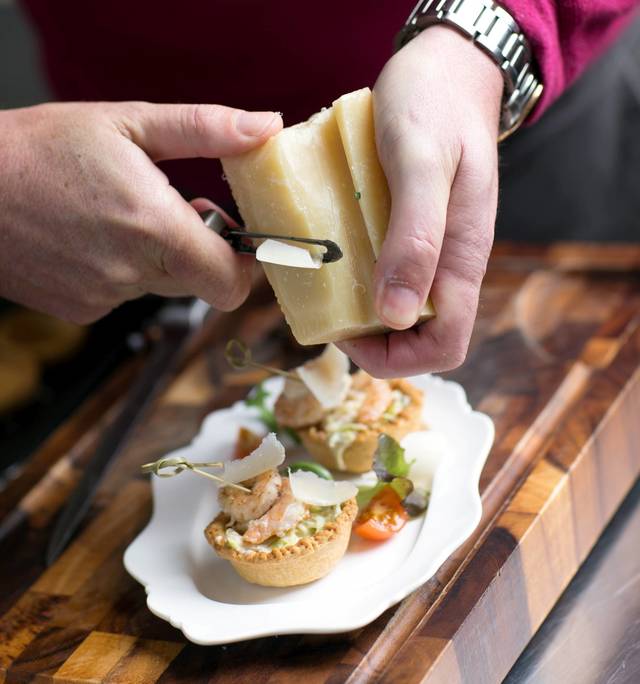 This special O'Hellmann's recipe was created by celebrity chef Kevin Dundon at his cookery school in Dunbrody House, Co Wexford, to prove that there's more to mayonnaise than a dip for your chips.
Parmesan Pastry:
350g plain flour
175g butter, cubed
30g Parmesan, finely grated
1 egg yolk
60ml water
Prawns:
36 Tiger Prawns, tails intact
2 tbsp O'Hellmann's Mayonnaise
2 cloves garlic, diced
1 tsp Olive Oil
Creamed Leeks:
3 large Leeks, thinly sliced
2 shallots
100ml white wine
150ml cream
100 g Parmesan
Garnish:
12 cherry tomatoes, quartered
2 tbsp olive oil
Lemon wedges to serve
Salt & pepper
Preheat oven to 190C/375F/Gas Mark 5.
First prepare the pastry: Sift the flour into a glass bowl and add the cubed butter, incorporating the flour and butter until it resembles breadcrumbs. Add the Parmesan cheese and stir through.
Create a well in the centre of the mixture and add the egg yolk and water, and work until the dough comes together. Cover with cling film, place in the fridge for at least half an hour.
Turn out onto a lightly floured surface Divide the pastry into 10–12 equal pieces and roll each piece of pastry in 5mm depth.
Grease 10–12 tartlet cases and press each pastry disc into place. Place on a baking tray and fill with baking ceramic beans. Place in the fridge for half an hour to rest.
Bake blind in the oven for 15 – 18 minutes until cooked.
In the meantime, combine the garlic and O'Hellmann's in a bowl. Add the prawns and allow to marinade in the flavoured mayonnaise. Preheat a griddle pan and add a little olive oil. Skewer 3-4 prawns onto wooden or metal skewers and lay on the griddle pan. Cook for 1–2 minutes on each side, then remove from the pan and keep warm.
In the same pan add the leek and shallots and cook over a medium heat for 3-5 minutes until softened.
Add the white wine, and cream and cook for a further 4–5 minutes until reduced and coats the back of a spoon. Season with salt and pepper.
Divide the leek mixture between each pastry case and top with 3–4 prawns. Add the Parmesan and place under a hot grill for a minute or two to melt the parmesan.
Dress with some cherry tomatoes and baby green leaves and some O'Hellmann's.
Serves
10 – 12 Tartlets
Preparation Time
30 minutes
Cooking Time
25 minutes
Recipe Type
Dinner, Entertaining
Level of Difficulty
Fiddly
Other recipes you may like
Trending and Sponsored