Rose and Vanilla Panna Cotta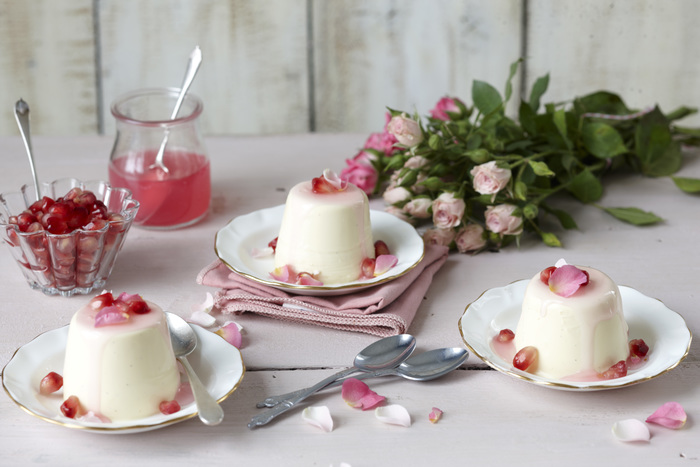 A quick and esy dish that's guaranteed to impress
Dr. Oetker Platinum Grade Leaf Gelatine x 3 sheets
450 ml Double Cream (3/4 pt)
95 g Caster Sugar (3 1/2oz)
7,5 ml Dr. Oetker Select Vanilla Extract with Seeds (1 1/2tsp)
1 Dr. Oetker Ground Arrowroot Sachet x 1
Lemon Juice from 1 lemon
Dr. Oetker Hot Pink Gel Food Colour
2 ml Rose Flavour (2 drops)
10 g Pomegranate Seeds to serve
Put the Gelatine Leaves in a shallow dish and cover with cold water.
Leave to
soak for 10 minutes.
Meanwhile, heat the cream gently with 65g (2 1
⁄
2 oz) sugar, stir until
dissolved, then heat to just below boiling point.
Drain the Gelatine Leaves, and squeeze out the excess water.
Stir into
the hot
cream until melted.
Leave to cool completely then strain through a sieve into a
jug and stir in the Vanilla Extract.
Pour into 4 x 125ml (4 1
⁄
2 fl.oz) dariole moulds, jelly moulds or ramekin
dishes.
Allow to chill for at least 2 hours until set.
For the sauce, put the Arrowroot in a small saucepan.
Put the lemon j
uice in a
measuring jug and make up to 250ml (9 fl.oz) with cold water.
Blend a littl
e bit of
the liquid with the Arrowroot to make a paste.
Add the remaining sugar a
nd stir
in the remaining lemony water.
Heat gently, stirring, until the mixture boils a
nd
thickens slightly.
Leave to cool then add a few drops of Gel Food Colour a
nd
flavour with rose water to taste.
Cover and chill until required.
To serve, dip the moulds in very hot water for a few seconds to loose
n the
Panna Cottas and invert on to serving plates.
Serve with a little sauce spo
oned
over and decorate with pomegranate seeds and rose petals.
Serves
4
Preparation Time
10 minutes
Cooking Time
30 minutes
Main ingredients
Dairy
Recipe Type
Dessert
Special Info
Gluten free, Egg free
Level of Difficulty
Medium