Royal wedding chocolate biscuit cake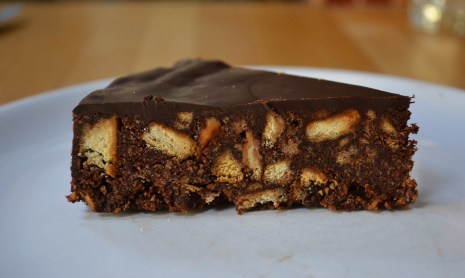 This is the actual recipe used by royal chefs in Buckingham Palace to create Prince Williams favourite cake when he was younger. It's delish! This recipe requires no baking and the kids enjoy helping breaking up the biscuits.
For the cake:
120g butter (softened)
120g caster sugar
235g McVitie's Rich Tea biscuits
120g dark chocolate (good quality like Lindt)
1 egg

To decorate:
240g dark chocolate
Line a baking tray with some greaseproof paper.
Lightly grease the outer ring of a 20cm spring form cake tin and place it on the greaseproof paper. You aren't actually using the base of the cake tin, just the outer ring of it.
Beat the butter until really smooth and then beat in the caster sugar.
In a separate bowl break the biscuits into small, almond sized pieces - you can crush but the texture of the cake is better if you break them by hand. And that's what the Royal chefs do too.
Melt the dark chocolate in a bowl over a saucepan of hot water and gradually beat it into the butter mixture until smooth.
Beat the egg in a mug or cup and then mix it into the butter mixture.
Add in the broken biscuits and stir well to cover in the chocolate mixture.
Spoon the chocolate biscuit mixture into the cake ring and press it down firmly and out to the sides with a spatula, pallet knife or back of the spoon.
Allow the cake to set in the fridge overnight or for a minimum of 3 hours if you are stuck for time.
Remove the cake from the refrigerator and let it stand while you melt the chocolate.
Slide the ring off the cake and turn it upside down onto a wire cake rack.
Pour the melted chocolate over the cake and smooth the top and sides using a palette knife.
Allow the chocolate to set at room temperature - don't put it back in the fridge at this stage as the chocolate will lose it's shine.
Carefully run a knife around the base of the cake where the chocolate has stuck it to the wire cake rack and lift it onto a serving plate.
Serves
2
Preparation Time
15 minutes
Main ingredients
Chocolate
Recipe Type
Cakes & Baking, Entertaining, Gifts, Cake Stall
Cuisine
English
Special Info
Gluten free, Nut free
Level of Difficulty
Easy
This cake works well as a gluten free cake if you use gluten free digestives or gluten free rich tea biscuits. You could use Juvela brand of biscuits which work well.
Other recipes you may like
Trending and Sponsored