Slow Roasted Pork with Rosemary Caramelised Apples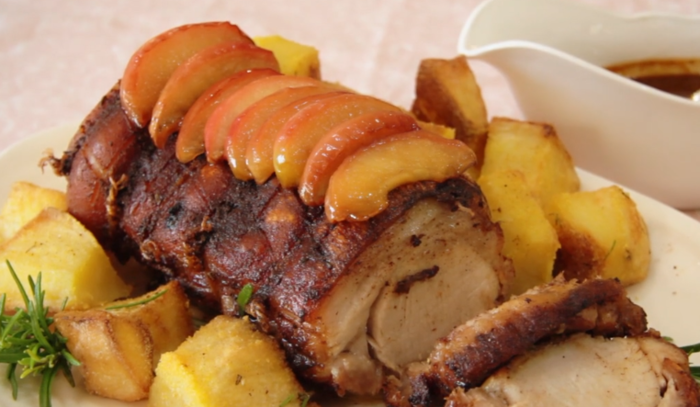 Sunday lunch is that special time to get together, relax and have good fun. Pork is a great family dish and it takes flavour so well, so I've added a lovely dry rub and am serving with caramelised apples.
3 carrots, halved lengthways
2 onions, cut in thick sliced
3 garlic cloves, peeled
3 kg boned, rolled and scored pork shoulder
For the rub
2 tsp finely chopped rosemary
1tsp paprika
1 orange, zest only
Salt and freshly ground black pepper
Rapeseed oil
300ml vegetable stock
For the potatoes:
8 large potatoes, peeled and cut into chunky pieces
3 tbsp rapeseed oil
4 tbsp polenta
2 tsp chopped thyme
Salt and freshly ground black pepper
For the caramelised apples:
2 "pink lady" apples, sliced
2 tbsp butter
2 tbsp caster sugar
1 tsp chopped rosemary
Preheat the oven to 220C/fan 200C/gas 7.
For the pork:
Place the carrots, onions and garlic cloves on the base of a large roasting pan and place the pork on top.
Mix the rosemary, paprika and orange zest together in a small bowl and then rub all over the pork.
Sprinkle about 1 tbsp. of salt over the top of the pork and roast for about 30 minutes until the crackling develops.
Then season the pork with freshly ground black pepper and pour the stock into the roasting pan.
Reduce the oven temperature to 180C/fan 160C/gas 4 and roast for 2½ hours.
For the potatoes:
In the meantime, pat the potatoes dry, place them in a bowl, add 2 tbsp oil and toss. Sprinkle the polenta and thyme over and mix well.
Place on a roasting tray and transfer into the oven. Roast for about 30 to 35 minutes depending on the size of pieces of potatoes, carefully shaking the roasting tray once or twice until crisp, golden and cooked. Remove from the oven, season lightly with salt and keep warm.
In the meantime, heat the butter and add sugar in a large frying pan over a medium heat and add the apple slices and rosemary, sauté until lightly caramelised and softened then set aside.
Allow the pork to "rest", covered, for at least 15 to 20 minutes before carving.
To make the gravy:
Place the vegetables from the pork into a saucepan, add about 180ml hot stock and simmer for 5 minutes. Use a handheld blender and puree. Check the seasoning, you may need to add a little freshly ground black pepper.
To serve:
Place the pork on a large serving platter. Arrange the caramelised apple slices on top of the pork and place the potatoes around the edge and serve with the gravy.
Serves
6 - 8
Main ingredients
Fruit, Pork, Vegetables, Herbs
Recipe Type
Dinner, Family Dinners
Level of Difficulty
Medium
This rub can be used on chicken or fish and it's particularly good for BBQs (when we get the weather!)
For more recipe videos click
here
.
Other recipes you may like
Trending and Sponsored