Vegetable Risotto and Arancini Balls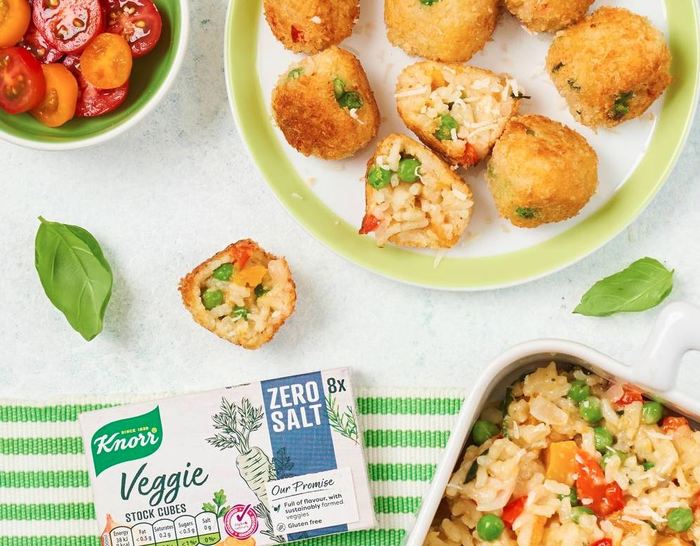 2 Knorr Zero Salt Vegetable Stock Cubes with 900 ml of water
200 g butternut squash peeled and sliced
70 g peas
50 g Parmesan cheese grated
1 red pepper diced
2 cloves garlic crushed
1 large onion chopped
2 tbsp basil chopped
2 tbsp olive oil
250 g risotto rice
To make the Aranchin Balls
350 g cold risotto mixture
40 g panko breadcrumbs
1 egg beaten
To make the risotto, heat the oil in a shallow saucepan. Add the onion, pepper, and squash. Fry for a few minutes then add the garlic and rice and stir.
Add the Knorr Zero Salt Veggie Stock. Cover with a lid and simmer for 18-20 minutes until all the stock has been absorbed. Add the peas and cheese and simmer for 2 minutes.
For the Arancini Balls, cool the mixture and shape into 12 balls. Dip into egg and roll in the breadcrumbs. Heat a little sunflower oil in a frying pan. Add the balls and fry for 4-5 minutes until golden brown and heated through. Add the basil just before serving.
Serves
4
Preparation Time
5 minutes
Cooking Time
20 minutes
Level of Difficulty
Easy