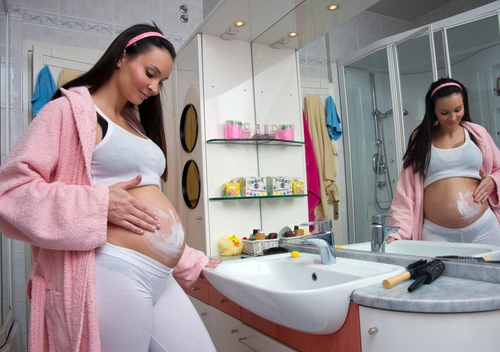 As your body changes and grows bigger during pregnancy, you are bound to experience stretch marks, either severely or hardly noticeable. While you can't actually prevent them from happening, it doesn't mean there is nothing you can do to reduce their appearance and stop them becoming too noticeable.
Here are 7 really easy ways to try to reduce them:
Coconut oil
Coconut oil is great for keeping your skin moisturised. Simply massage onto your growing bump, around your breasts and along your thighs as these are the areas most affected by stretch marks.
Water
Drinking water helps to keep your skin hydrated which in turn will help with its elasticity. It is important you don't allow yourself to become dehydrated during pregnancy for both your health and that of your baby's, so consume at least two litres of water a day.
Dry brushing
Dry brushing is not only great for circulation it also good for getting rid of toxins, which will help your body absorb any oils you may put on. Avoid sensitive areas and try to pick a brush with a long handle for easier use.
Vitamin E oil
Vitamin E promotes skin elasticity and helps to keep the collagen fibers strong. You can eat foods high in vitamin E – almonds, spinach and avocados – and rub Vitamin E oil or cream onto areas that you can expect stretch marks to occur, such as your stomach and breast area.
Eat healthily
Make sure you maintain a well balanced diet that doesn't cause you to put on more, than pregnancy weight. Eat a diet rich in fresh fruits and vegetables to help keep your skin healthy.
Exercise
Make sure you exercise regularly as it helps to tone muscles and improve the skin's elasticity. Daily light exercise is recommended during pregnancy.
Massage daily
Massage your skin daily with a massage glove to help improve circulation. This will help remove toxins and improve the skin underneath.
Your stretch marks are a sign that you have carried your beautiful baby and should be celebrated rather than shunned.