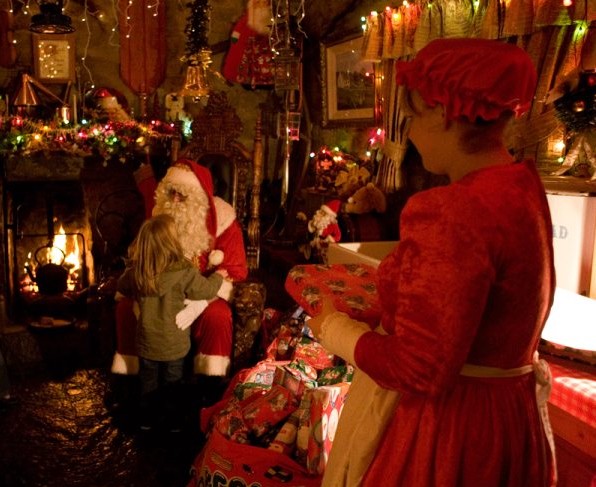 Santa's Cottage is located in the heart of the Mourne Mountains in County Down, between Rostrevor and Hilltown. Completely secluded from modern life and surrounded by mountains and forests in one of Ireland's most beautiful natural areas, it is no surprise that Santa Claus chose here as his place of rest in preparation for the busy Christmas period.
As Christmas approaches Santa, with the help of his elves and Mrs. Claus of course, decorate the cottage and the land around it with a spectacular array of lights that can be seen from miles away. This truly provides a magical setting for Santa Claus to greet his visitors in the heart of the Mourne Mountains.
Guests will also be invited into the comfort of Santa's Underground Cottage. This is a beautiful building unlike any other in Ireland that will provide a warm place for visitors to sit down and relax in a unique Christmas environment. The centre piece of the hall is the large stone fire-place and visitors will get the chance to see Mr. Claus himself arrive down through the chimney.
Each family will then get their own individual time with Santa beside the glowing fire inside the old cottage. This is a chance for the children to have a chat with Santa and tell him what they would like for Christmas. Here each child will receive a gift from Santa. The old cottage is also the perfect place to take some special family photos with Mr. Claus.
Next stop is the elves workshop. The elves are busily working away here making toys for the children for Christmas. This is a busy period for Santa's elves and as you will see they have no time to stop if they are to have all the toys ready for Christmas Eve. Santa's helpers will then show each family into his bedroom. This is where Santa gets his rest in preparation for the work that lies ahead at Christmas. As you approach Santa's bedroom you might just happen to hear the loud snoring of one of Santa's elves.
As each family leaves Santa's bedroom they will make their way round to see Rudolph the Red-Nosed Reindeer. As Rudolph is the lead reindeer pulling Santa's Sleigh, this is a chance for the children to give Rudolph the directions to their houses so that Santa doesn't get lost when delivering their presents.
By this stage you will probably be ready for a rest yourself and there is no better place to do this than in Santa's very own Wooden Cabin overlooking the valley below. The Cabin is the ideal place to put your feet up and enjoy a nice warm cuppa and a piece of cake or perhaps something more filling that has been prepared freshly by Mrs. Claus that day.
Where: Santa's Cottage, Sandbank Rd, Hilltown, Co. Down.
When: From November 23rd to December 23rd Monday - Friday, 5pm-10pm. Saturday & Sunday, 1pm-10pm.
Price: Children - £18, adults - £13, under one year old - £8
Contact: (048) 417 72052 / (048) 417 54969