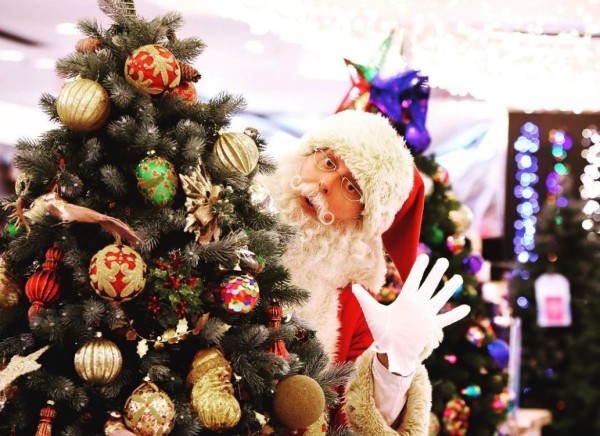 We hate ourselves for even typing the word so we're just going to do it quickly and get it out of the way.
Christmas.
We know, we know, we only just arrived in August and this time last week we were enjoying a glorious heatwave.
So why on earth have Selfridges opened their Christmas shop?!
They've definitely beaten the crowd, as the iconic store is officially the first department store in the world to open its Christmas shop - 145 days before the Big Day, to be exact.
Forget the #HeatwaveUK #Selfridges has already opened it's Christmas shop! #HeartNews pic.twitter.com/uX7t7yD1hE

— Sussex News (@HeartSussexNews) August 2, 2018
Th theme this year is rock 'n' roll and pop culture this year, and there are currently more than 500 products waiting to be snapped up.
The second stage of the shop will open on September 4th and customers will have a staggering 3,800 options to choose from then.
But the question remains - why so early?
According to Harpers Bazaar, Selfridges has said that their decision is largely driven by tourism and shoppers on their summer holidays.
Selfridges Christmas and Home buyer Eleanor Gregory explained, "we have so many customers visiting from all over the world, eager to snap up festive decorations and souvenirs on their London summer holidays which they can't buy at home.''
''So, we make sure we're ready to showcase Christmas decorations they will truly treasure. Our summer Christmas shop launch simply addresses the growing demand for convenience Christmas shopping outside the traditional Christmas season from many of our customers."
How'd you spend the hottest day of the year? Having a dance off with Father Christmas... the irony doesn't escape me. Thanks for having me DJ your Xmas press day @Selfridges #SelfridgesChristmas pic.twitter.com/UkyuXgkAm7

— Sam Hall (@Goldierocks) July 25, 2018
It isn't just tourists who want to start their Christmas shopping in the late summer.
''A large number of domestic customers who love to Christmas shop very early in the year to get it wrapped and taken off their to-do list,'' Eleanor continues.
"They also tell us that they like to be able to take their pick of the very best selection available, while the range we offer is at its most comprehensive," she explained.
So it looks like the festive season has come early - will you be heading in to get a head-start on your pressies?