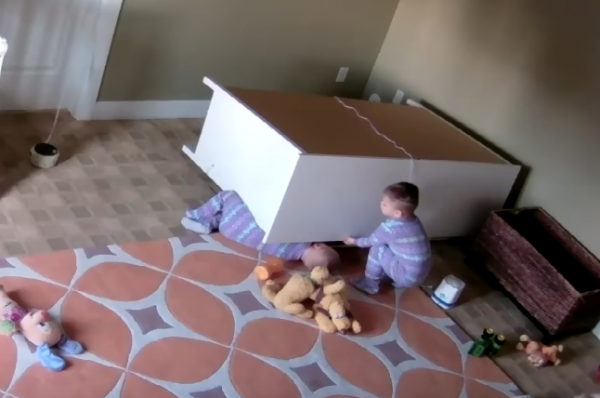 Last year, Swedish furniture giant IKEA were forced to recall over 29 million dressers after six children were killed and dozens of others injured.
Parents are becoming increasingly aware of the dangers furniture poses to our children and that's been yet again proven by this latest viral video.
Admitting he was hesitant to share the footage, dad-of-two Ricky Shoff took to Facebook to "bring awareness" after his son was pinned down by a dresser at their family home in Utah.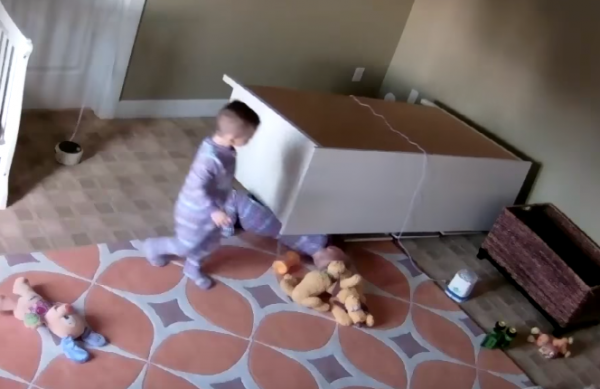 The footage shows the moments after two-year-old twins Bowdy and Brock climbed into the open drawers of the dresser causing it to tip over and trapping the boys underneath.
Bowdy managed to crawl out leaving Brock struggling under the weight.
The footage shows Bowdy struggle to help his brother, however eventually he manages to push the dresser out of the way.
"We are so grateful for the bond that these twin brothers share. We know Bowdy was not alone in moving the dresser off of Brock.," said Ricky in his post which has had over 2,500 reactions.
The shocking footage came with a warning from Ricky for other parents.
"Please make sure all your dressers are bolted and secured to the wall."