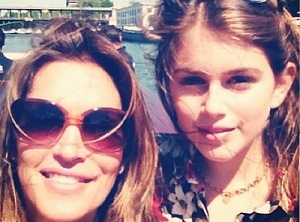 Cindy Crawford's 13-year-old daughter has stunned the world with her very first magazine photo shoot.
Kaia Gerber looks uncannily like her supermodel mum in her beautiful shoot for Teen Vogue magazine, shot by photographer Peggy Sirota.
While this is Kaia's first big magazine spread, she is used to high profile modeling jobs. Indeed, the teen was one of the stars of a Young Versace campaign back in 2010, at the tender age of 10.
Speaking in the accompanying interview with the fashion publication, Kaia admits that while she is inspired by her mum's career, she tends not to go to Cindy too much for advice with her own work.
"She knows so much about it. I think it would be hard for her to be on set and not say things like, 'Psst, Kaia, put your elbow up,'" she says.
That said, Cindy was on set for the entire shoot to support her daughter in her latest modelling venture.
Kaia took to her Instagram account to share a photo from the shoot with her followers, who were quick to point out her striking similarity to her mum.
One follower wrote: "Gorgeous! Mini Cindy."
We couldn't agree more.