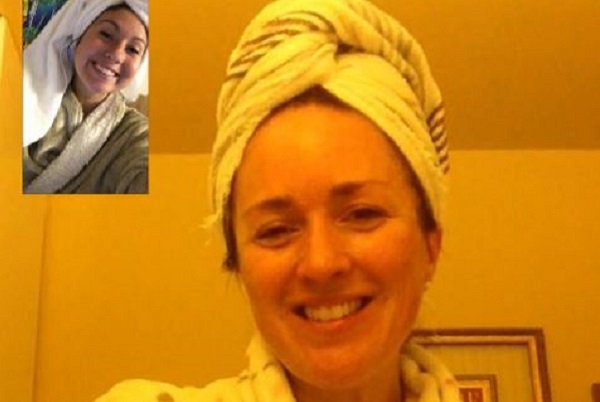 You can always rely on your mum to boost your mood, especially on the bad days when everything is going wrong and all you want is a hug from your mum and one of her hearty roast dinners.
When college student Amelia Holjencin was experiencing a serious case of the blues she turned to her mum for support.
She told Love What Matters about her inspiring mum, "Do you ever just realize that your mom is a living, breathing angel and feel really bad for being mean to her when you were 15?"
Amelia explained how she was having a really difficult day. The Texas church shooting left her feeling disheartened, "The church shooting that occurred in Texas on Sunday really affected me. I was feeling discouraged and disturbed about the world that we live in, and I felt so sorry for the victims and their families."
The student attends Temple University in Philadelphia which is over five hours away from her hometown and her family.
The harrowing mass shooting left her yearning for her family. Amelia revealed, "Going to college so far away from my family is really hard on me at times, especially when I get upset."
Amelia admitted that she hadn't seen her family for months and it was unbearable, she missed them so much.
She shared, "I felt more and more homesick the more I thought about the tragedy. It really made me miss my family."
Like mother like daughter pic.twitter.com/WgmhbdFOpS

— Amelia (@AmeliaHoljencin) December 2, 2016
Being a student is never easy, dealing with exam stress and the never-ending pile of assignments can be an intense and emotionally draining experience. Amelia couldn't handle her negative emotions any longer and knew it was time to call her mum.
"I called my mom and she made me feel instantly better. She always seems to have the perfect advice for me in any situation," she revealed.
Amelia's mum shared some truly remarkable advice with her daughter, "You can't put your happiness or wellbeing in the hands of anyone or anything outside yourself, Amelia," said the mum.
Her mum reassured her and built her confidence back up, Amelia praised her mum, "She was so helpful and so concerned. She sent me a few Inspirational TED Talks, and called 3 more times that day to check in on me."
How one simple tweet has everyone showing their moms love. Next on Fox 29
#Gooddayphiladelphia#Fox29 pic.twitter.com/TmtecZr8vE

— FOX 29 (@FOX29philly) November 12, 2017
We couldn't think of anyone better to turn to than your mum. They always know what to say to make you smile again.
"It dawned on me later that day how amazing my mom's love for me was. I know that no one else I meet in my life will ever love me or care about me in the way that she does," said the doting daughter.
We love the advice Amelia's mum shared with her daughter. What's the best piece of advice your mum shared with you?