Know a mum-to-be who could do with some cheering up?
Well, we've found the perfect gift that is bound to put a smile on her face!
The Bakehouse Bump Box is ideal for expectant-mums who are hosting socially distant baby showers or just for a general pick-me-up!
This box contains a delightful array of quality home cooked foods, freshly baked goods and specially chosen beverages, all packaged up and delivered like a thoughtful and exciting present.
Such has been the demand for sending the boxes as gifts, the team at Bakehouse Dublin have been inspired to develop a product for new mums and expectant-mums to celebrate and spoil them during this special time.

Many of these ladies have spent much of their pregnancy in isolation. They have missed out on wonderful days spent daydreaming, wandering around baby shops and of course the traditional baby shower.
The Bump Box provides a delicious dinner delivered to your door. It includes a bottle of non alcoholic Prosecco, cupcakes with baby specific toppers and a handmade mom to be badge!
They have also sent many boxes to mums returning home with a newborn. What a lovely gift to find on your doorstep as you begin (or continue!) life at home as a new mum. The combination of items within the boxes feeds the soul, as well as the belly.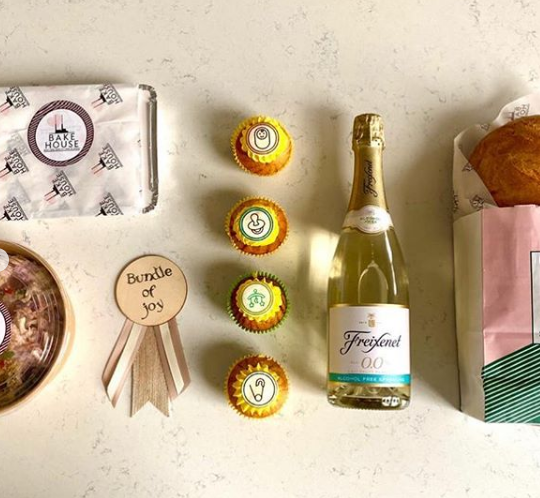 The personal messages of care and love being included in these boxes would really make your heart swell. Such occasions are not limited to baby showers but include postponed weddings, birthdays and even home date nights - occasions marked in a new and unique way and experiences enhanced by the boxes!
Check out www.bakehousedublin.ie to place an order today!