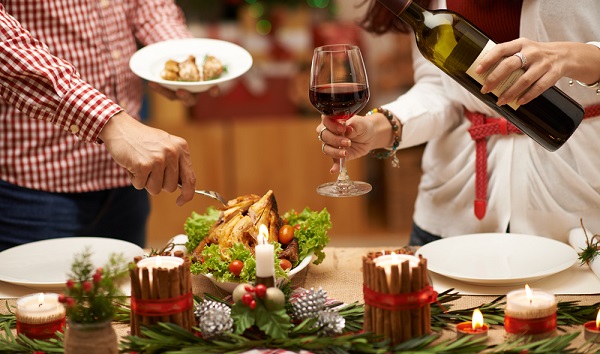 They say it's the most wonderful time of the year, and while the little ones will be focused on Santa Claus and their presents, it's the epic meal that lies ahead of us on Christmas Day that most of us are preoccupied with. From the food itself to the banter and the celebrations, here are some of the best things about the most anticipated meal of the year.

It brings the family together
From loved ones returning home from abroad to relatives stopping by for an annual visit, Christmas is one of those holidays that brings the family together - and much of the celebrations centre around the dinner. For many, this will be the first meal they get to enjoy all together, which makes it all the more special.

The table-banter is always a highlight
Spirits are already high given the occasion, and especially if you have already opened the presents, and everyone is on top form - which results in some great banter at the table. Expect plenty of games as well as funny and heartwarming tales of Christmases gone by.

It's guilt-free
Not only is stuffing your belly until you're fit to burst expected, but it's pretty much encouraged with Christmas dinner! Indeed, even the most health-conscious person won't say no to a few extra slices of Turkey and ham, and a few dollops of double-cream over their pudding. The more decadent, the better, so get those stretchy trousers on!

One word: Turkey
It's pretty self-explanatory, really. Tradition calls for us to wait 360-odd days to roast a delicious turkey and serve it up with all the trimmings on this one special occasion. After you're done digesting your turkey meal, you can look forward to turkey sandwiches with cranberry sauce, and maybe even a Bridget Jones-inspired Turkey curry!

Every kind of potato
This is the one meal of the year where we cooks don't mind pulling out all of the stops in order to please every palette, and this is where the potato-lovers really score! From roast spuds to creamed mash and rich gratin, you can expect to be spoiled for choice when it comes to gorging on your favourite carb-y treat.

Everyone goes crazy for a Christmas cracker
Just as you're starting to get really full and your energy is starting to dip, someone will break out the crackers and the table will burst into life again. From the silly paper hats to the cringe-worthy jokes and the, ahem, interesting prizes, Christmas crackers always add great fun to the festivities.

Dessert is always a show-stopper
Dessert is always a highlight of the festive meal, and no matter how full you are, there is always room for a bowl of trifle or some custard-coated pudding. The richer and the more decadent, the better - and second-helpings are expected!