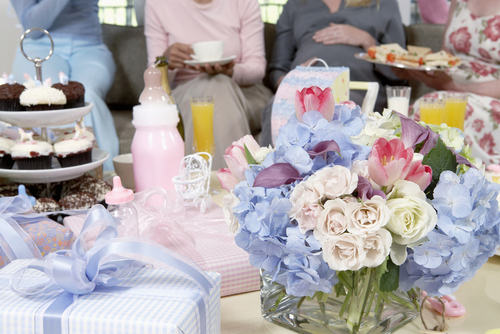 Baby showers have come to represent more than just a day where you and your closest friends get together to have tea and cake to celebrate your impending arrival. Now they require meticulous planning, games,
a theme
and even little keepsakes for the guests; it's starting to become more like a wedding.
If you are planning on hosting a shower either for yourself or a friend, keep it stress-free with the following dos and don'ts.
Do:
Invite the dad-to-be
It is easy to forget about the dad-to-be when it comes to baby showers, but they might want to get in on the action as well.
Go for finger food rather than a sit down lunch
Cakes, sweets, buns, scones and sandwiches are all easy to prepare
foods
that taste delicious. They also mean less clearing up and people can come and go as they please.
Have it close to the due date
You don't want to have the party too far away from the due date, nor do you want it the day of. Two weeks before is usually a nice time as it can offer the mum-to-be a distraction from the discomfort that comes with the third trimester.
Open the presents
Nobody can resist cooing over teeny, tiny baby clothes so open the presents while the guests are there.
Keep it short and sweet
Two hours is long enough to have a catch up, open the gifts and eat some nice food. Any longer and the expectant mother might become too tired to be able to enjoy herself.
Don't:
Don't make it a surprise
If you are hosting the party, try to avoid throwing a surprise one. The last thing the mum-to-be will want is to show up looking tired and feeling exhausted.
Don't invite lots of people just for the sake of it
Keep it small and intimate. There is no point inviting people just for the sake of it, it will be exhausting trying to entertain everyone and it will be hard for the mum-to-be to relax.
Don't give gift suggestions on the invitation
It is not a wedding so don't ask for certain gifts or give a registry. Most people will bring something anyway and a gift list might make them feel uncomfortable.
Don't play embarrassing games
Games are a good way to pass the time but bear in mind that this is not a hen party so try to keep the embarrassing games to a minimum.
Don't serve alcohol
Remember, this is a baby shower so try to avoid serving alcohol. The last thing the guest of honour will want is to have to deal with drunk and loud guests.