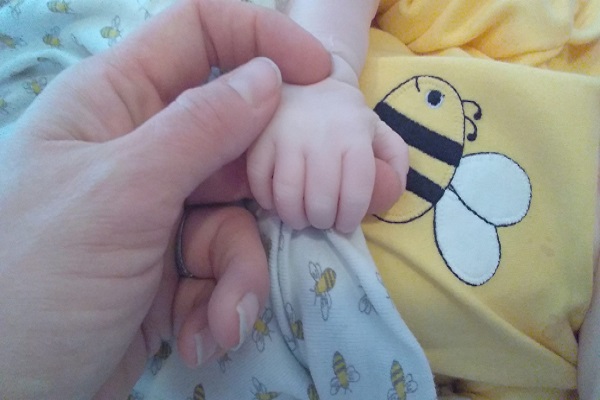 The mum behind the viral bee maternity photo-shoot has shared the most devastating news. Emily Mueller has announced that she lost her baby boy.
The mum wrote, "It is with the most deepening sadness I share that our sweet Emersyn Jacob was born an angel yesterday at 10:18 pm. He weighed 7lb1oz and was 20.25in long."
Emily revealed that her son was stillborn. The news has broken the hearts of hundreds of people around the world.
People showered the mum with their supportive and loving words.
She thanked everyone for their support during such a harrowing time, "Our lives have been changed forever in so many ways but I am realizing we are not the only ones suffering the loss of Emersyn. It is a profound experience to see how many people are mourning with us."
She opened up about the loss of her son in a heart-wrenching Facebook post. She admitted that she wasn't paying attention to her baby's movement, "Who truly does when you've been this far along three times before and everything has been completely normal," she asked.
During the evening time, she realised that she hadn't felt the baby move a lot that day: "I had contractions that felt different than any I have had before. It almost seemed like he moved upward into my body as well."
The mum used a doppler to check her son's heartbeat, but nothing showed up. Her worries began to grow, "Around 2:30 am I woke up and was completely unsettled by the lack of elbows and knees I had been feeling. I woke up Ryan and we tried to find a heartbeat together."
When the parents failed to find a pulse, they decided that they would go to the hospital in the morning.
The mum thought she was being oversensitive, "I truly thought we would be sent home with a smile, telling us to just wait for the arrival of our sweet Emersyn, who was due in 6 days."
Sadly, the medical team failed to find a heartbeat, "Every detail of that moment is forever sketched into my mind and I cannot stop replaying it. Dr Sutter sat on my right side looking at the screen and turned to me and said, Your baby has passed."
The mum shared that it was the most difficult time of her life, "Our baby has died. Our baby will never come home with us. This wonderful rainbow baby we were blessed with has now become a storm in our lives."
She added, "Learning you have to be induced and deliver your deceased child is way beyond that. My heart instantly ached for any woman that has told me she had a stillborn."
She thanked everyone for the waves of support, "Thank you for all of those who have called, texted, messaged us. Thank you for the donations to relieve our financial burden while my husband is home trying to learn our new normal."
"Knowing people are thinking about us relieves so much of our own pain," said Emily.
We are beyond heartbroken to hear of the passing of Emily's son. We are thinking of her and her family during this painful time.