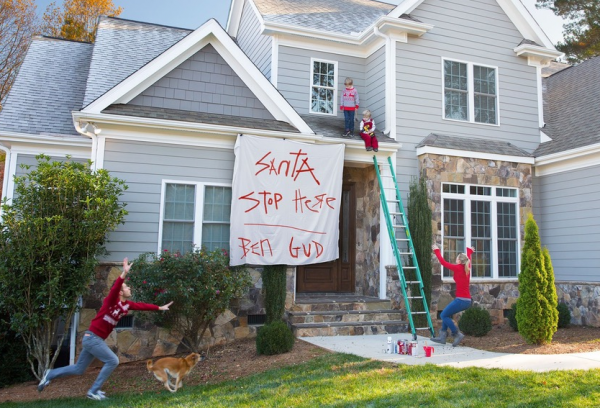 When it comes to capturing a family picture, it takes military-like skills to get the kids organised.
From getting them to stop fighting to making sure their smiles are cute and not at all menacing, the whole ordeal can leave us exhausted and wondering why we wanted the picture in the first place.
Add a Christmas theme into the mix and you're in for a right party! Well, this dad decided to give up the fight and capture his children as they are; absolute troublemakers.
Now while he may have used a little Photoshop to create his families annual Christmas card, there is no denying the real-life struggle we all feel trying to keep an eye on our kids.
Sharing the picture on Reddit, he captioned the image:
"I try to capture the essence of raising two boys in our Christmas cards. Here is my 2016 card."
With a sign reading "Santa stop here" proudly hanging from their home, the picture shows the two boys on the roof and their parents frantically trying to get them down below.
And we LOVE it!
I try to capture the essence of raising two boys in our Christmas cards. Here is my 2016 card. from funny