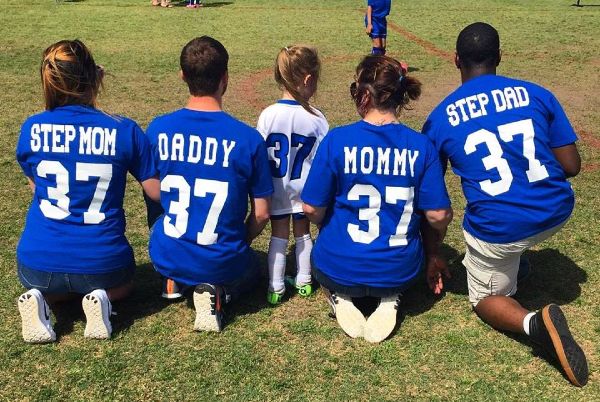 We all know that being a parent is hard work, especially if you and your partner have separated and re-married - as you want to protect your child from any potential drama.
Well for one particular family, the concept of co-parenting appears to be pretty easy, giving hope to many families out there who are going through a tricky situation.
A group of parents recently posed for a photo at their daughter's football match, and people all over the web are in awe of the mature and balanced parents.
The family are currently figuring out the right way to raise their gorgeous little girl, now that both parents have remarried.
The picture, posted by Emilee Plaayer, shows four adults beside a little girl - the young daughter that they are all raising together.
The photograph gained viral status, and has been shared over 86,000 times, with thousands of people commenting about how impressed they are by the image.
The photo shows little Maelyn at her football match, with her mom, Clara Cazeau, and dad, Ricky Plaayer, on either side of her, wearing jerseys that read 'Mommy' and 'Daddy,' to Clara's right is her husband, Alex Cazeau, wearing a 'Step Dad' jersey, and to Ricky's left is his wife, Emilee Plaayer, wearing a 'Step Mom' jersey.
Emilee captioned the photo with a wonderful sentiment, saying that: "Because of us, I will never believe co-parenting can't work! I KNOW through experience it CAN WORK! Choose to do what's best for your child and everything will just fall into place."
The two married couples do what they can to make life balanced and wonderful for little Maelyn. Together, the two families try to share vacations and major life events when they can.
How amazing is this?