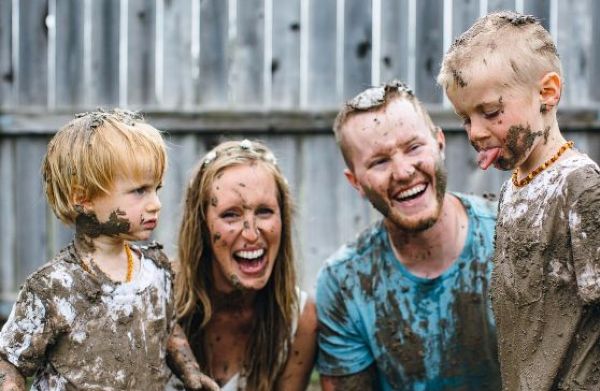 Some people look at rain in a negative way, but when this family saw rain, they also saw opportunity.
Brittany and Jon were expecting their third child together, and had organised a pregnancy photoshoot to create memories that would last a lifetime.
However, the date for the shoot was changed a number of times, because in their hometown of Waxahachie, Texas, "when it rains, it pours".
The rain was not stopping, and Brittany was getting closer and closer to her due date, so photographer Elaine Baca came up with an unorthodox concept for a pregnancy shoot.
"We had rescheduled the session a couple of times already, and Brittany was quickly approaching the end of her pregnancy (she was 38 weeks at the time, and delivered just nine days later), so we knew he might come any day. We had been texting about the session, talking through outfits and locations, and we both saw the rain wasn't going away," said Elaine.
It was at this point that Elaine made a suggestion: "She asked me what I thought about indoor locations, but they are outdoorsy people so I knew that wasn't really what she wanted. Then I suggested something a little unconventional."
According to a post on the Love What Matters Facebook page, Elaine said that the family "have a huge backyard which backs up to a field, and I knew it had lots of muddy puddles, so I asked her what she thought about playing in the rain and ending with a mud fight."
Apparently, Brittany didn't even hesitate at the idea, trusting her photographer's vision for the shoot, and just went for it. The results were absolutely fantastic, and truly captured what can only be described (lovingly) as the true dirty side of parenting.
The pictures were uploaded to the popular Facebook page over the weekend, and have been liked over 66,000 times already - which is pretty darn amazing.
Thousands of people have also commented on the photographs, sharing their thoughts on how awesome they really are. One person wrote: "Priceless capture of a family that has fun together! Treasured memories in the years to come, I am sure! I love that it's not the traditional poses, but just life real, and that love and laughter come with the unplanned moments! There is a metaphor in these pictures, the answer to life, instead of lemonade, make some fun in the MUD!" We couldn't agree more.
Elaine spoke so fondly of the family - which is made up of Jon, Brittany, Declan (age four), and Noah (age two). "It's so rare that I see two parents who work so well together to raise and care for their children while being so in love. They all have so much fun together."
Baby Barton was born just NINE days after these wonderful pictures were taken.