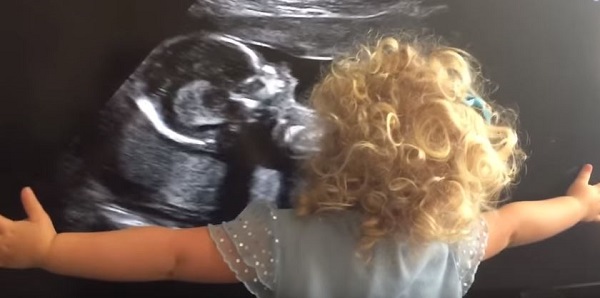 Goosebumps. Shivers. Actual tears. As we write this, we are still trying to get over the sheer beauty of this video, of a very proud and loving big sister-to-be.
Carly Tansley has unwittingly created a viral internet sensation of her daughter Myla, who is almost three, by sharing a stunning video of the tot's reaction to watching ultrasound footage of her unborn sister in the womb.
In the gorgeous video, Myla is seen hugging and kissing the screen, then turning around and breaking down into tears as she goes to hug her beloved mummy.
When Carly asks her little girl what's wrong, she reveals that she 'loves' and 'misses' her baby sister!
When Carly comforts her and tells her that she's going to see her baby sister very soon, Myla seems to cheer up slightly, but she adds: "But I love her so much".
Uploading the video to YouTube, Carly admitted: "I was not expecting her to get this emotional at all! The love she has for her already is unbelievable."
This is, without question, the most beautiful thing you will see all day.
SHARE with a fellow mum or mum-to-be to spread the joy.