Furby is set to top kids' Christmas lists once again this year. Furby has been updated for 2012 with a digital makeover. New features include expressive LED eyes which display emotions and react when Furby is tickled or fed. Each toy has been programmed to develop its own unique personality, which is shaped by how it is played with, and they can even talk to each other. Kids can also download a free iPhone, iPad and iPod touch app to virtually feed the toy and speak to it with a Furbish to English dictionary.
Two of the biggest movie launches this summer, Batman's 'The Dark Knight Rises' and 'The Amazing Spider-Man' mean superheroes also feature in the Argos Top Ten Toys list. Kids will be in their element with the new Web Shooting Spiderman, which features a unique motorised shooting action to cast its own 'webs', and The Bat, the caped crusader's new vehicle which launches a Batman figure up to 10 feet in the air.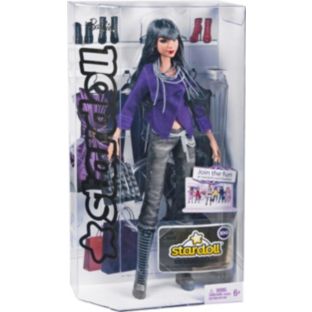 The biggest online fashion and dress up site for girls, Stardoll.com, is being taken offline for the first time ever with a physical incarnation of one of the most popular avatars created by users – Stardoll Fallen Angel. Stardoll Fallen Angel features on the list and is exclusive to Argos.
Cinderella also makes an appearance on the list and to celebrate her Diamond birthday she's received a glamorous a makeover with lots of glitter, sparkle and twinkling musical lights built into her gown. Another old favourite, Minnie Mouse is back with Minnie Mouse Precious Pets Tour Van, which allows children to take Minnie on their own adventures complete with a 'Baby Pluto' toy.
There are a few toys that parents may remember asking Santa for themselves making this year's Top Ten, such as Twister. The classic game has been updated for 2012 evolving into Twister Dance, a cross between the original and dance lessons. Perennial favourite Lego also features on the list with the Lego Monster Fighters Ghost Train, offering a new twist of glow in the dark bricks to engage and excite Lego-lovers.
For younger children, technology will continue to be huge with two electronic tablets, the Vtech Innotab 2 and LeapPad 2, both in the Top Ten. Following on from last year's highly successful models, both now feature rotating cameras allowing children to capture imagery of both themselves and their surroundings. The tablets have been upgraded with added educational features, enabling children to emulate their parents by having their own computers whilst learning in a fun way.
Richard Woolfson, leading Child Psychologist said: "Most of the toys on the list reflect the impact of the digital dimension in children's lives, yet children will still interact with them using their imagination in traditional ways. They will invent their own adventures with the toys, make up new imaginative play sequences, extend their creativity and have great fun at the same time. Play is vital for a child's development and learning, and a great toy is one that works in tandem with technology while enabling children to play with it in traditional ways".
To see more gifts, and enter a competition to win €500 euro worth of Argos vouchers click
here
.