The best way to spark a love of reading in your children is to pick a book that works for you and for them. This list of newly released children's books – many of which are Irish – will help you engage them through hilarious and exploratory stories. These carefully chosen books feature bright and exciting illustrations and content that your little one will love. Get them the gift of reading this Christmas and take a break from the Netflix slump that gets us all around this time of year. A book is the perfect way for you to connect with each other and allow them to explore the world around them.
'Little Red Head' by Gemma Henry McLoughlin (Mammy Red Head Publications)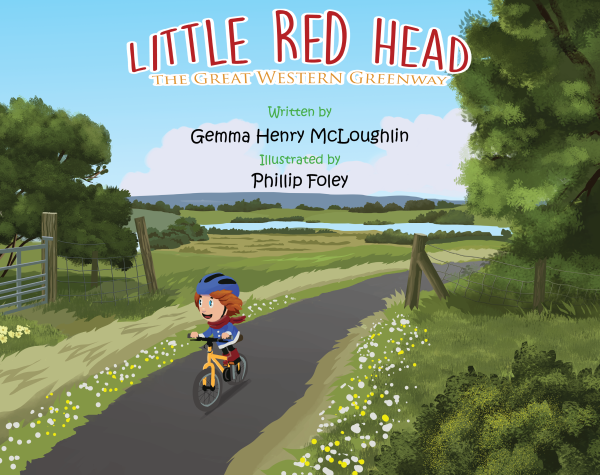 "The Great Western Greenway"! Explore with Little Red Head and his family, all the stunning views, tastes and smells that The Great Western Greenway, in County Mayo has to offer.
Little Red Head will bring you along the amazing cycle and walking path that covers a distance of 42 kilometres taking in the magnificent scenery and terrain, taste and smells of The Great Western Greenway; all brought to life by the Gemma Henry McLoughlin author and Philip Foley illustrator.
Come along with Little Red Head as he travels and explores the Island of Ireland, what will he see today? Who will he meet along the way?
'Johnny Magory Joins the Irish Legends' by Emma Jane Leeson (Ballynafagh)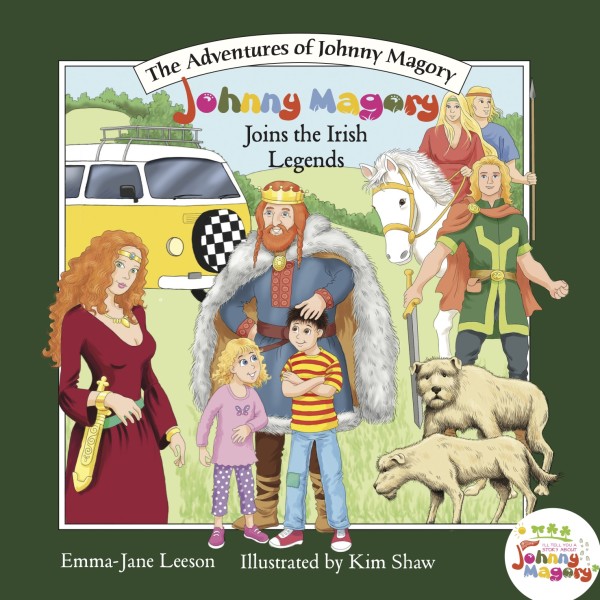 Johnny Magory has a brand new story.
The much-loved Irish character has a new book.
The Johnny Magory book series based on the old Irish rhyme ("I'll tell you a story about Johnny Magory. Will I begin it? That's all that's in it") has been brought to life by Kildare based Emma-Jane Leeson.
In the latest book, Johnny Magory Joins the Irish Legends, visits heritage sites with his sister Lily-May and their trusty dog Ruairi, drives about in Tizzy the Volkswagen campervan and enjoys the ultimate Irish staycation. He'll meet Fionn mac Cumhaill, Queen Méabh, Oisín and Niamh and Brian Boru and collect wooden puzzle pieces as he goes.
For EJ, Johnny Magory is all about reconnecting families with Ireland's unique and wonderful wildlife and heritage. EJ wants to inspire parents and children to connect with nature and to educate children globally on Irish heritage, wildlife and culture.
'The One with The Waggly Tail - Favourite Rhymes from an Irish Childhood' by Sarah Webb Illustrated by Steve McCarthy (The O'Brien Press)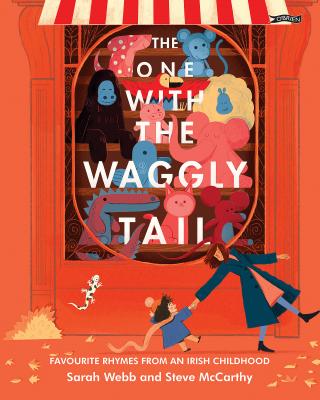 A new, beautifully illustrated collection of favourite nursery rhymes from the team that brought you Sally Go Round the Stars (short-listed, Irish Book Awards) and A Sailor Went to Sea, Sea, Sea (winner, Irish Book Awards).
It includes favorite international, British and Irish rhymes, as well as special Irish favorites. Includes: It's a Long Way to Tipperary, 1, 2, 3, 4, 5 Once I Caught a Fish Alive, Here We Go Round the Mulberry Bush, The Wild Swans at Coole, Lámh, Lámh Eile, Polly Put the Kettle on, Hot Cross Buns and many, many more!
A charming book to teach them the rhymes of your childhood to sing together.
'The Chill Skill' by Niall Breslin (Gill)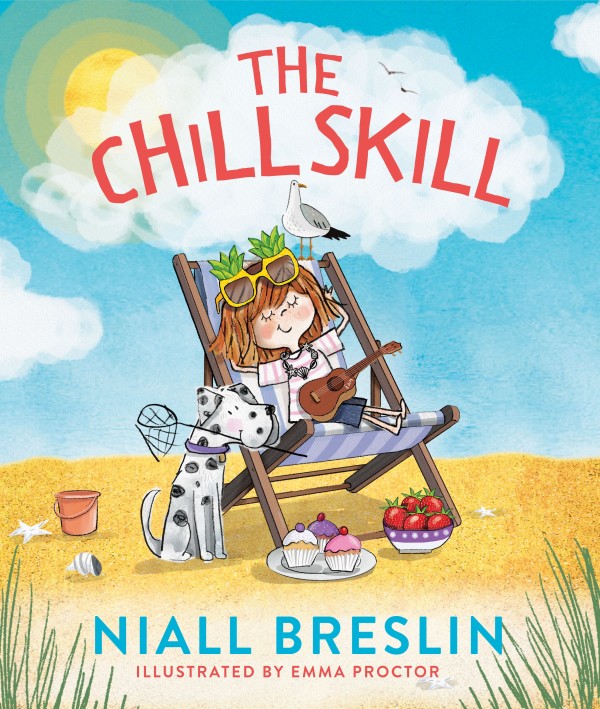 The Chill Skill, which is illustrated by Emma Proctor, follows the success of The Magic Moment and Take Five. The Chill Skill explores the subject of anger.
Anger is an emotion that we all experience or encounter, it is an essential emotion, but one that adults and children alike can find difficult to understand or manage. The Chill Skill aims to teach children not to suppress or ignore anger, but to learn how to sit and explore their discomfort through breathing techniques and mindfulness practice.
In the story, Sam has been playing with her mum's phone and when she takes her phone back, Sam begins to feel cross. Sam's Grandad teaches her a breathing technique, which puts out the angry flames that are making her feel hot and bothered. Soon Sam is feeling much better – and enjoying a great day at the beach with her family.
'Eggcorns' by Chris Judge (O'Brien)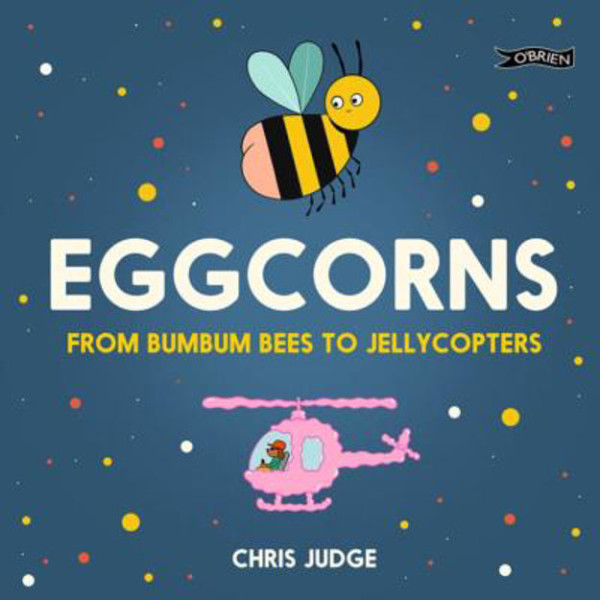 Have you ever seen a Bumbum bee, or an Elelamp? Does your pet wear Doggles? These are all Eggcorns, where a child's mispronunciation can add a whole other level of meaning! What would a bumbum bee (bumblebee) or Elelamp (elephant) look like? Or Doggles (goggles) or a Carcodile (crocodile)?
Illustrator Chris Judge (The Lonely Beast, Danger is Everywhere) has brought his bizarre sense of humour to imagine them for us all in this hilarious exploration of words gone wrong!
'Pigín's Unexpected Adventure' by Kathleen Watkins (Gill)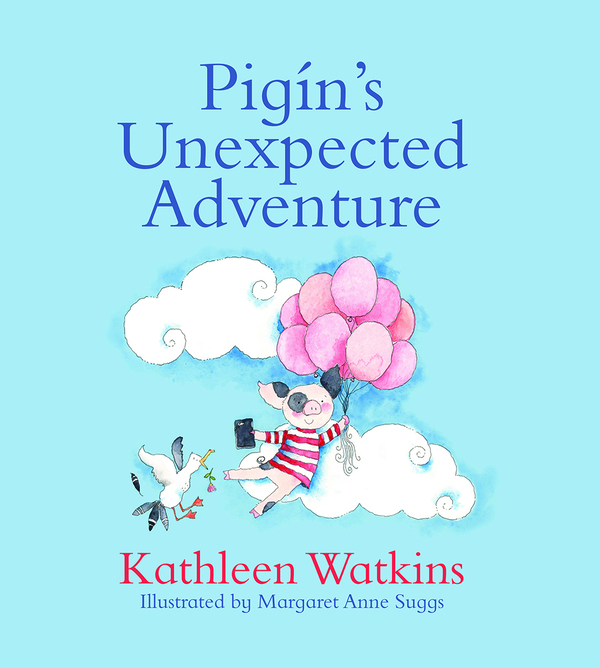 Join Pigín on an unexpected trip – all the way to London!
Pigín is enjoying a wonderful summer party at the fairies' place behind Howth Castle when he holds one balloon too many, and up into the air he goes!
Luckily, the Green Bird is flying overhead, and the captain manages to pull Pigín in the cockpit window. And so, his unexpected adventure begins …
Pigín enjoys visiting the sights in London: a trip to Buckingham Palace, a ride on the River Thames and even a go around the London Eye. What a wonderful time he has! But when he sees Nana Kit waiting for him at Dublin airport he realises there's no place like home.
Before you Sleep by Benji Bennett (self published)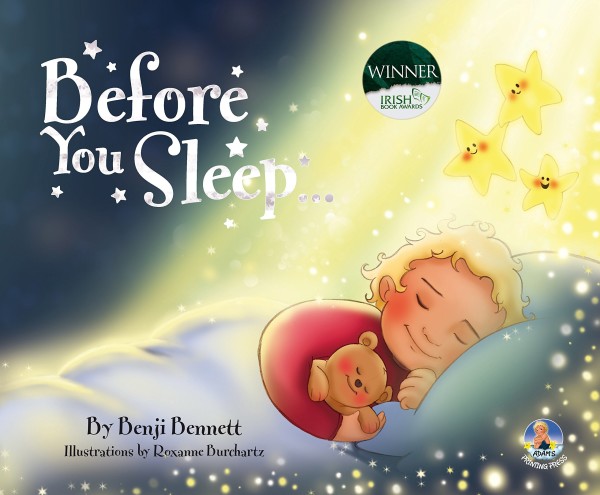 "Before You Sleep" is an affectionate and wonderfully illustrated children's bedtime story book filled with warmth, love and adventure and emphasises the importance of love, laughter and play within the family. Supporting Barretstown children's charity this must-have treasure offers parents a unique opportunity to enter the fascinating world of a child and express their love for their child through a series of magical adventures, powerful verse and imaginative illustrations
'Go to Sleep Hoglet! The Adventures of an Irish Hedgehog' by Bex Sheridan (O'Brien)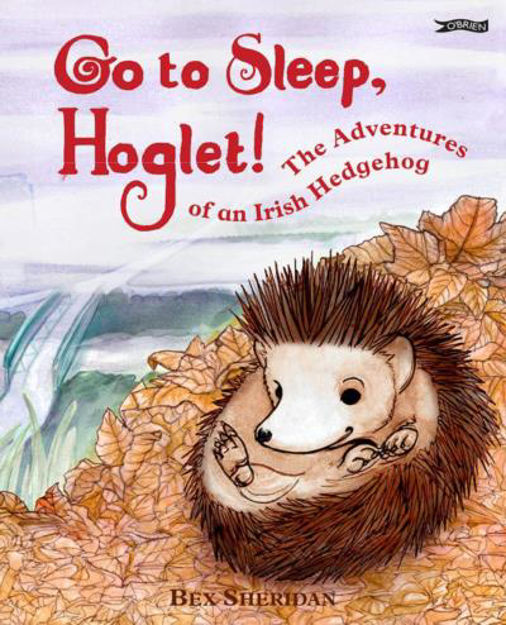 One misty morning, in their cozy little nests, down by the banks of the river Boyne, all the hedgehogs were snuggling up for the Big Winter Sleep.
But one little hedgehog just couldn't go to sleep. Every time Hoglet closed his eyes, he kept thinking about Rabbit's Super Special Secret ...
A baby hedgehog decides that he doesn't want to hibernate and goes searching for Christmas magic in the world of humans. A perfect bedtime story for animal lovers.
'The Dead Zoo' by Peter Donnelly (Gill)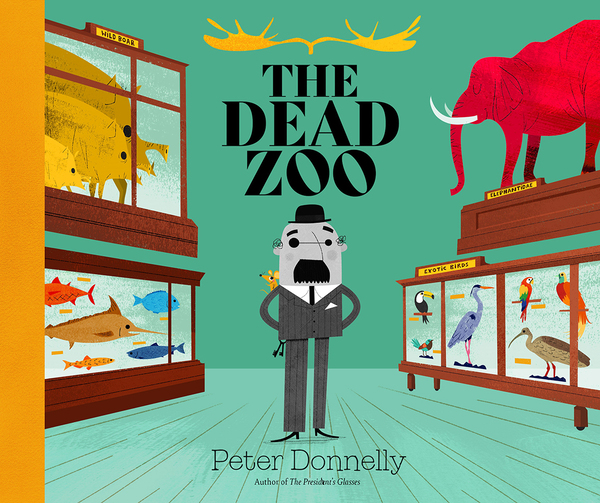 'My favourite book from anywhere in the world this year.' Ryan Tubridy
Mr Gray is a very serious man. And he is in charge of a very old, very serious museum filled to the brim with stuffed animals.
Mr Gray does not like people. He does not like children. In fact, he is most at home with things that are stuffed.
So when a real live mouse decides to move into the Dead Zoo, Mr Gray is determined that she must go. That is, until he needs her help …
Another instant classic from the creator of the award-winning President picture book series.
'Wee Donkey Treasure Hunt' by Erika McGann and Gerry Daly (O'Brien)
A wee donkey sat in the shade of a tree.
'If you had one wish, Grandad, what would it be?'
'I'd fix this old back and these wobbly knees and go see the sights that are out there to see.'
The wee donkey thought, 'I can't turn back the years, but I can get Grandad some great souvenirs.'
She slipped through the gate with a small wooden cart, in search of some gifts that would warm Grandad's heart.'
The wee donkey heads across Ireland, where she "borrows" the Jeanie Johnston ship from the Liffey, the round tower from Glendalough, kisses from the Blarney Stone and more, to bring to her grandad.
But you can't go taking national treasures like that, particularly when the police find out! A warm and entertaining picture book from the team who brought you Where Are You, Puffling?
The Jeanie Johnston (Dublin), Glendalough, Blarney castle, Giant's Causeway, Tara, the sea on the Wild Atlantic Way and the Book of Kells in Trinity are just a few of the places Wee Donkey visits to bring her grandad a souvenir.
'You Matter' by Christian Robinson (Atheneum Books for Young Readers)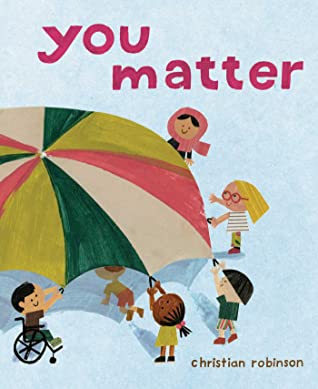 'They All Saw a Cat' meets 'The Important Book' in this sensitive and impactful picture book about seeing the world from different points of view by Caldecott and Coretta Scott King Honoree Christian Robinson.
In this full, bright, and beautiful picture book, many different perspectives around the world are deftly and empathetically explored—from a pair of bird-watchers to the pigeons they're feeding. Young readers will be drawn into the luminous illustrations inviting them to engage with the world in a new way and see how everyone is connected, and that everyone matters.
Finding Nutmeg by Greg Clarke (The Santa Experience)
This beautifully illustrated children's book details the story of one boy's magical adventure to the North Pole. After finding a magical coin outside his grandad's workshop, Sean embarks on a mission to return it to its rightful owner: Nutmeg the Elf. Join Sean on his journey to find Nutmeg as he meets elves, reindeer and even a talking snowman along the way—all while learning about the importance of helping and giving (the true qualities of an elf!).
'Finding Nutmeg', is a timeless tale that's sure to bring the whole family together. And for the year that's in it, 'Finding Nutmeg' will help families re-create the magic of The Santa Experience safely in their homes.