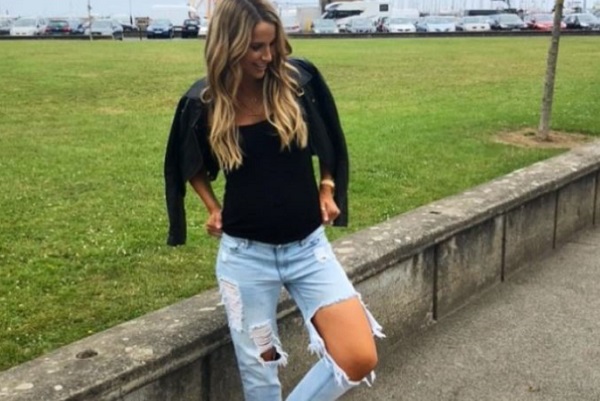 Vogue Williams has revealed that being stressed over pregnancy shamers sent her to the doctors.
Speaking on This Morning, the model and DJ said that the pregnancy shaming got so bad on social media that she became worried about her baby.
Williams said that in particular her decision to continue training throughout pregnancy received the most negative attention.
"To be told you are putting your unborn child at risk, I think that's really offensive. Unless you're a doctor you should be dolling out that advice to anyone anyway," she said on the show.
"For the first fifteen weeks I couldn't because I was so sick, and some people have that the whole way through, but because I feel better now and have my doctor's advice, it's good for me to do."
Comments about her training intensity and bump size made Williams seek out medical advice.
"It does stress you out because some of the comments sent me to the doctor," she revealed. "People were telling me, 'Your bump is too small, there's something wrong with you' and I went to the doctor asking 'is there something wrong with the baby?' But he's actually a big baby, which is brilliant – but also terrifying."
This is not the first time Williams has been the target of trolls. Just last week, Williams was fat-shamed online, despite being seven months pregnant.
When asked about parent shaming she joked that she "can't wait for it".
Husband Spencer Matthews of Made In Chelsea fame is also looking forward to parenthood.
"Spencer is delighted, he can't wait. He's built all the baby stuff. I came home one day and everything was just built and ready to go. They need a lot of stuff. But it's super exciting."
The baby is due this summer.