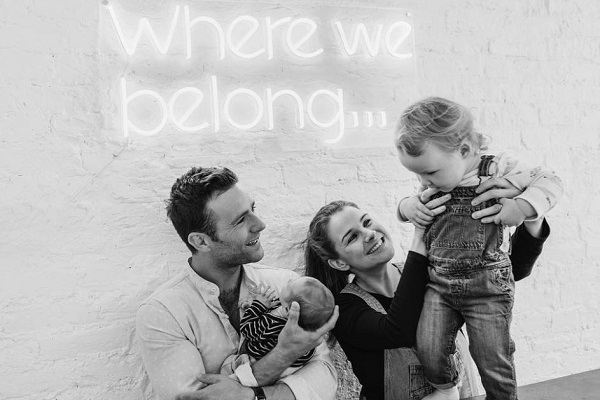 Izzy Judd has bravely spoken about suffering a miscarriage in 2014. The mum-of-two took to Instagram to help women during Baby Loss Awareness Week. Her courage is truly admirable.
She wrote about how overjoyed she felt when she first found out she was expecting, "Looking at the screen that day when we first set eyes on our embryo, I remember thinking how beautiful it looked and being totally amazed at the miracle of life. Like a perfect moon, we were blown away."
The mum opened up about how painful it is knowing she will never got to meet her baby. She revealed that it was one of the toughest moments of her life, "Devastatingly we never got to meet our first baby, so I treasure this photo."
Izzy, who is married to McFly's Harry Judd, revealed how devastated she was when she lost her baby. The violinist honestly spoke about how she felt during the harrowing time, "Suffering a miscarriage is heart-breaking and so lonely."
The mum went on to admit that her heart felt empty, but her mind was overflowing with thoughts and questions about what happened and what the future would have been like.
Izzy revealed that her unborn child will always hold a special place in her heart, "From the moment I looked at those two lines on our pregnancy test in my heart I was already a mum."
The author admitted that they will always think about the baby they lost, "This little embryo will always be our first child."
Izzy went on to encourage her followers to support anyone they knew who had a miscarriage or lost a baby.
She said, "I'm asking you to support all those who have loved and lost by joining in the #waveoflight tonight at 7 pm by lighting a candle for all our babies in the sky."
The doting mum asked her followers to tag their friends in her post to show their support, "Let them know you're thinking of them."
She concluded the post by writing a touching message, "Gone but never forgotten little angels."
Izzy has two children with Strictly Come Dancing champion, Harry Judd.
Harry recently spoke about the troubles they faced when trying to conceive, he revealed that Izzy was distraught, "I lost her a little bit. I lost that smiley, confident, beautiful wife."
The couple welcomed their first child, a daughter named Lola Rose Emma Judd, into the world on 25 January 2016. On August 26, 2017, Izzy gave birth to their son Kit Harry Francis Judd.