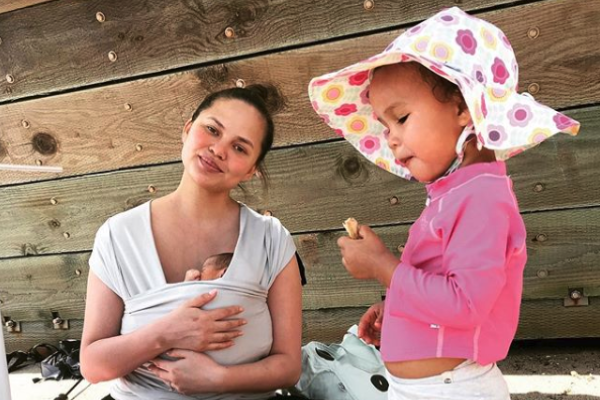 Picture via Instagram
IVF and infertility struggles can sometimes feel like taboo subjects.
Mum-of-two Chrissy Teigen is thankfully helping to reverse that trend, though.
The model has long been open about how IVF helped her conceive two-year-old Luna and little Miles, who's just a month old.
Yesterday, she shared an adorable photo of her son curled up on bedding covered in cute giraffes, unknowingly sparking a conversation about IVF.
Seeing Miles, one person asked if Chrissy had used IVF to conceive her son as she had done with Luna.
The 32-year-old mum responded, "Yep, he was just on ice a smidge longer, science and the human body are beautiful."
Another person replied saying that they found the initial comment asking about how Miles was conceived offensive and intrusive.
However, Chrissy said she wasn't bothered by it.
"I wasn't offended by it - people are just curious and I think hearing success stories gives people hope," she explained, "I'm all for talking about IVF."
Others felt just as inspired by this frank discussion.
"I love how open you are about IVF," a parent commented, "I feel the same way about using it for my twins. The more we talk about it the less stigmatized it is."
One woman shared, "I hate that people give IVF a bad stigma. How is it bad that people want a child and will do what's necessary to have one? My boyfriend can't have children, we have discussed IVF countless times. It's a wonderful miracle! And it truly makes dreams come true."
We have to agree; the openness of Chrissy, along with other celebs like Courteney Cox, Izzy Judd, and Emma Thompson, helps others struggling with infertility.