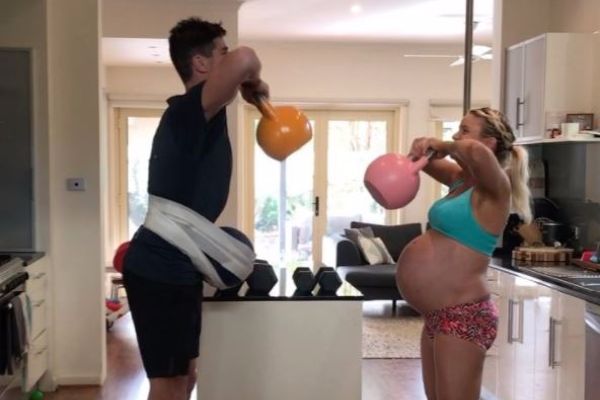 Anna Strode is 37 weeks pregnant, and in better shape than almost anyone we know.
The fitness guru, and mummy blogger behind the popular site bubs2bikinis, manages to work out a few times a week, despite being heavily pregnant.
Typically, Anna posts short videos of her workouts on Instagram, where she's usually alone or with her kiddos.
However, the mum-of-two (soon to be three) recently posted a video of herself and her hubby, working out together in a pregnancy challenge.
In the hilarious video, Anna has taped a 6kg medicine ball to her husband's stomach - mimicking a pregnancy bump.
The pair then both start off an exercise routine, that quickly gets the better of the man in the video.
"OH OUCH, this really hurts your back, hey," said Anna's husband, regarding the bump - you're damn right, sir.
When the couple got down to business, they started with some casual kettle bell squats and then moved onto a dumbbell exercise, and we're honestly sweating just watching.
Throughout the clip, it's fairly clear that Anna's hubby is struggling, as he's going through the motions a lot slower than his gorgeous pregnant wife.
When the couple gets to their third exercise, jumping squats; the medicine ball ends up falling from his stomach, and the couple's challenge comes to an end, with Anna reigning victorious.
After sharing the video on Instagram, Anna told the Daily Mail about her husband's reaction to the challenge: "He actually found it really difficult, awkward, and uncomfortable, and said numerous times 'oh my back hurts'."
The video was shared yesterday morning, and has already been viewed over 36,000 times with hundreds of people commenting on how impressive Anna is.
"Love it! What a fab idea! You should get him to do it at 11pm so he feels as tired as you'd feel at 7am," wrote one mum, while another simply said, "Lol. You just made my day!"
Anna captioned the brilliant video with a simple message: "That's the reason women have babies and not men."
Amen, sista.