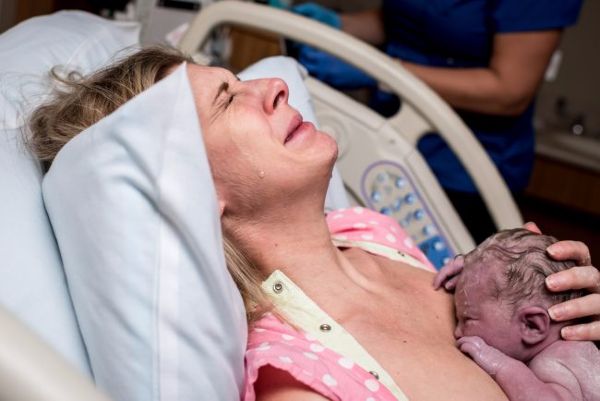 A "rainbow baby" is a baby that is born following a miscarriage or a still birth.
In the real world, a beautiful and bright rainbow follows a storm and gives hope of things getting better - a rainbow is more appreciated having just experienced the storm in comparison.
The storm (the loss of a baby) has already happened, and nothing can change that experience, and storm-clouds might still be overhead as the family continues to cope with the loss; however, something colourful and bright has emerged from the darkness and misery.
In December 2015, Lila and Tim took a pregnancy test and were delighted to discover that they were expecting their third child.
However, in a heartbreaking turn of events - about a week after the couple's positive test - Lila felt a terrible pain in her abdomen and went in to see her doctor right away.
The doctor explained to Lila and Tim that her pregnancy was a tubal pregnancy, also known as an ectopic pregnancy.
This resulted in Lila's right fallopian tube rupturing, and the expectant mum was rushed into the operating room to undergo a tubal ligation.
Lila spoke to photographer Laura Filfield about her experiences in hospital: "I was heartbroken, and my husband was terrified at the thought that he had almost lost his wife and mother to his children. Through tear-filled eyes, I cried out to God asking 'why?' I was scared and confused. I got only one response - 'through this I will bring joy.'"
However, in a ray of hope, the couple conceived again shortly after the ectopic pregnancy, and welcomed a beautiful baby girl, Audrey Joy, into the world - a true rainbow baby.
Lila spoke about how she maintained positivity because she knew that something good would come to her and her family following the loss of her baby: "I held tightly to God's promise. This experience brought my husband and [me] closer to each other and to God. I gained an amazing appreciation [for the] delicacy of both pregnancy and my own life."
The photographer, Laura, captured a number of truly moving images of Lila giving birth to baby Audrey, and they are simply awe-inspiring.
We are so happy for Lila and Tim, and their beautiful rainbow baby.