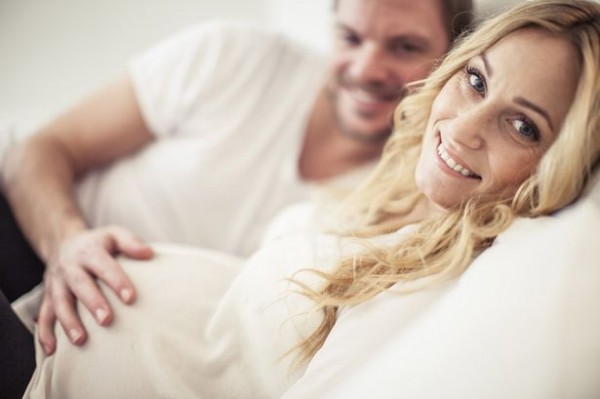 During the third trimester the countdown clock is well and truly on – so the nerves and excitement are kicking in for the mum and dad-to-be BIG time.
And while of course mum does all the hard work and carries the baby, this whole bringing children into the world thing is a joint experience, so it's important not only to involve dads in the pregnancy, but to ensure they know how to take care of you during this time too.
Your baby is growing rapidly during the third trimester, and while a wonderful, amazing thing, it takes its toll on you mentally and physically. And is it any wonder, considering you've a cocktail of hormones fizzing around inside you more potent than any Long Island Iced Tea?
So, to help them understand and care for you, here are our top tips for you to pass on to expectant daddies (hi dads!):
1. Nesting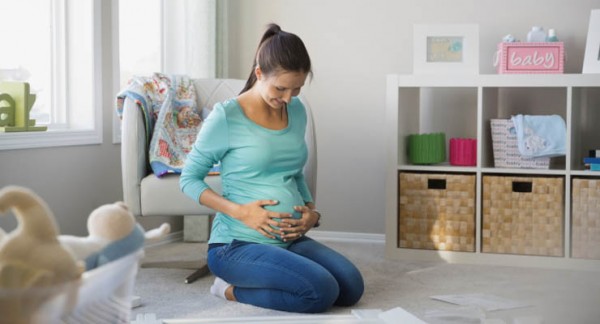 Nesting is characterised as a mum's instinct to prepare the home for her impending arrival. It can be relatively mild – like cleaning and tidying a lot – or more extreme – like deciding the whole house needs to be repainted and remodelled! This is where dad comes in. It's essential that you are there to help her during this time, whether it's to calm her anxiety and reassure her that the house is perfect already, or to help her clean, dust or lug that bookshelf across the room.
2. Treats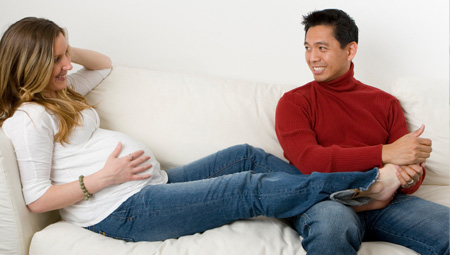 Your lady is carrying a human being inside her. She's has varicose veins, maybe even haemorrhoids, constipation, swollen feet, and a sore back. Her sleep is all over the place and she has to pee about twelve times a day. So to show how much you love and appreciate her, keep the romantic gestures coming. It doesn't have to be expensive: a foot rub or a date night with chocolate and her favourite movie will make her feel cherished and adored.
3. Do the laundry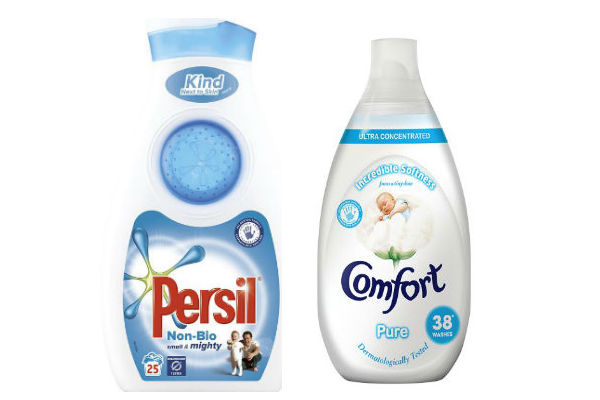 As she progresses into her pregnancy, bending down over the washing machine will get tougher and tougher, so commit to doing the laundry. And as pregnancy hormones will make her skin super sensitive, stock up on a kind-to-skin detergent like Persil Non-Bio, and a softener like Comfort Pure. Both are specially made for sensitive skin and work brilliantly together to give fresh, soft results.
4. Be in the know about labour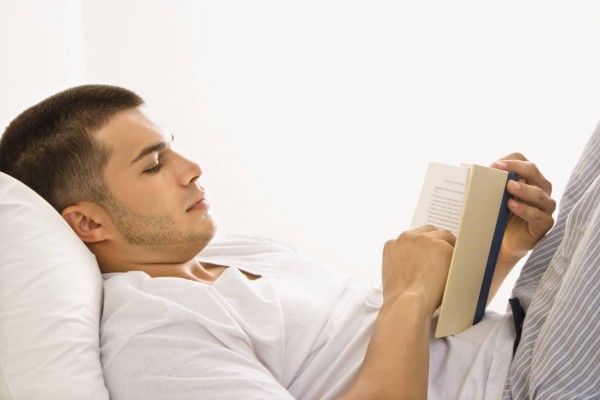 Your partner may well feel isolated in the experience if you haven't researched everything there is to know about childbirth. You might not be carrying the baby, but how your child comes into the world is just as pertinent to you as your partner – so get reading, researching and chatting to other mums and dads.
5. Help her pack the hospital bag
She might very well have the hospital bag planned right down to the tiny socks, but ask her if she needs help, or if she wants you to shop together. We say 'together' because mums-to-be are notoriously particular, and if you come back with the wrong brand of cotton wool there could very well be hell to pay!
6. Compliment her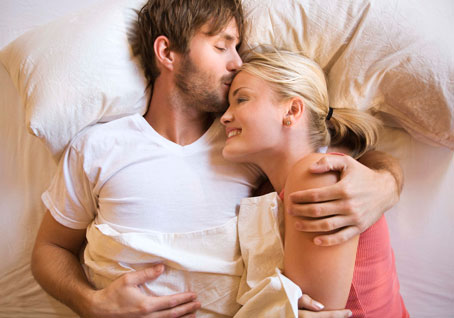 She could be feeling vulnerable and sensitive at this time – and while hopefully she already knows how beautiful, strong and amazing she is, telling her regularly will make her feel wonderful.
7. Talk to her about your feelings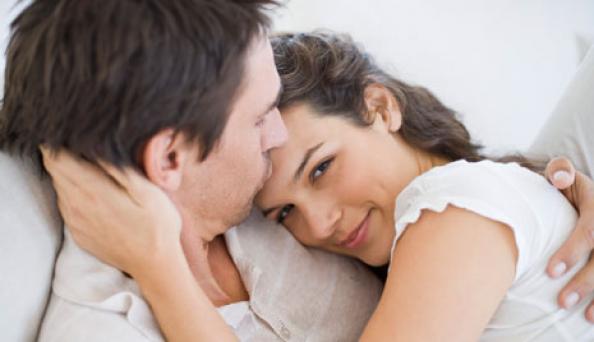 If you're worried or nervous, don't bottle it up. It's much healthier to talk to each other about your feelings. There's absolutely no shame in feeling this way – becoming parents is a big deal and with that comes a measure of fear and worry. If you're feeling anxious she will want to help you, so don't assume you'll worry her more by explaining how you feel. Don't forget, you're a team.
8. Exercise with her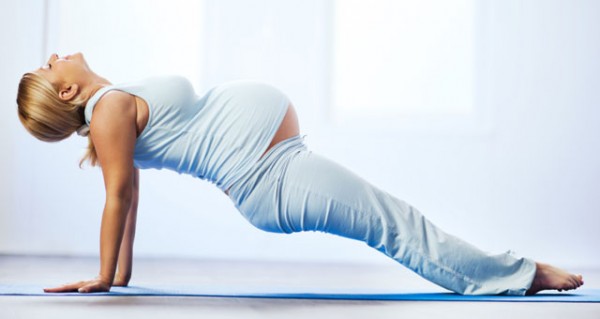 Understandably, tiredness and fatigue are large parts of the third trimester. However, it's important she gets a little exercise each day, so gently encourage her to go for a walk with you each evening if possible, or drive her to a pregnancy yoga class. Don't nag her though, she'll know if she's up to it or not!
9. Enjoy the experience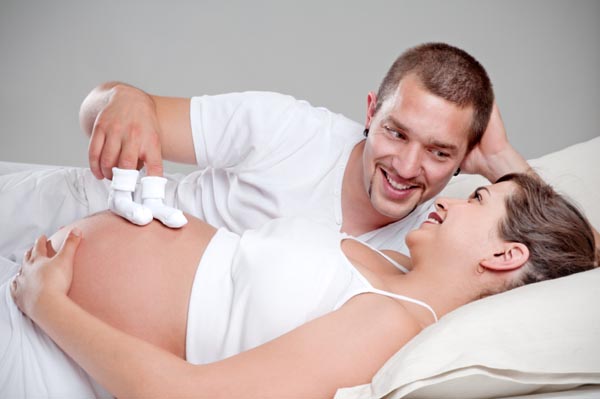 In a few short months, or even weeks you're going to become parents, either for the first time, or once more. It's an amazing, exciting time so make sure to try to slow down and enjoy it together.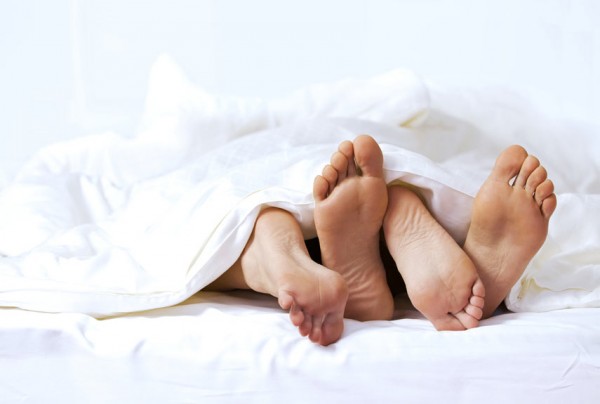 10. Sexy time
Sex is perfectly safe in the third trimester, in fact, it's encouraged right up to before her waters break. A comfortable position is key, like spooning together. And there's absolutely no need to worry, because there's no possible way the penis will go anywhere near the baby's head!
Love our tips? Now SHARE them with your partner!